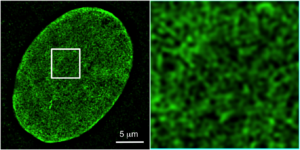 A recent study co-authored by Northwestern Medicine scientist Robert Goldman, PhD, suggests that degradation of lamin B1, a protein located in the nucleus of cells, may suppress tumor formation.
This protein degradation is a newly discovered function of autophagy, a natural process in which components of a cell that aren't needed anymore – or aren't working anymore – break down and recycle. Autophagy increases in aging cells that are no longer dividing, a condition called senescence.
"The induction of senescence is thought to be an important pathway to prevent the formation of tumors by restricting a damaged cell's ability to divide," said Goldman, who is the Stephen Walter Ranson Professor and chair of Cell and Molecular Biology and a member of the Robert H. Lurie Comprehensive Cancer Center of Northwestern University.
In previous research published in Genes & Development, Goldman and colleagues showed that lamin B1 is lost from the nucleus as cells enter the senescent state. The new study, conducted in collaboration with scientists at the University of Pennsylvania, builds on that work. The findings were published in Nature.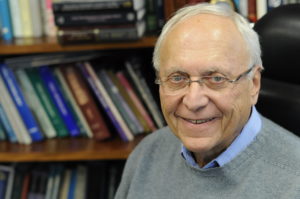 "This study shows that the nuclear structural protein lamin B1 is selectively degraded by autophagy in response to oncogenic or genotoxic insults to help keep cells in the senescent state," Goldman said. "It describes a role for mammalian autophagy in regulating the amount of nuclear lamin B1 and the regulation of gene expression in cells."
Goldman's lab, including associate professor Stephen Adam, '86 PhD, '86 GME, and adjunct assistant professor Takeshi Shimi, PhD, contributed to the study by providing expertise on the cell biology of nuclear lamins, reagents and three-dimensional structural illumination microscopy imaging that showed lamin B1 degradation was occurring through autophagy.
In future research, the group plans to investigate how lamin B1 is removed from the nucleus during autophagy and how this affects the organization of other nuclear structural proteins, chromatin and gene expression.
Goldman was recently elected a foreign member of the prestigious Finnish Society for Sciences and Letters, an honor that recognizes his scientific achievements.
The scientists who conducted this study are supported by a fellow award from the Leukemia & Lymphoma Society, career development awards from the Dermatology Foundation, Melanoma Research Foundation and American Skin Association, grants P01AG031862, R01 CA078831 and R01 GM106023 from the National Institutes of Health and the Progeria Research Foundation.