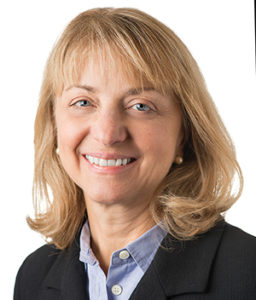 A form of botulinum toxin improved active arm movement for stroke and brain trauma patients in a clinical trial that involved Northwestern Medicine co-investigator Christina Marciniak, MD, '85 GME, professor of Physical Medicine and Rehabilitation and Neurology.
The large-scale, multi-national, placebo-controlled study assessed injections of abobotulinumtoxinA, a type of botulinum toxin that is marketed as Dysport and Botox. Patients who suffered from a stroke or brain injury and developed upper arm spasticity – a severe tightness and stiffness in the muscles – received a single set of toxin or placebo injections in the arm. The results were published in Lancet Neurology.
Botulinum toxin has been used to treat abnormal muscle activity for decades, but applications in the limbs are an increasing focus of research. Most previous studies looking at the effects of toxin injections in the arm have measured reduced muscle tightness as their primary endpoint, but the recent trial also evaluated increases in movement that make a patient's daily activities easier.
"The goal of treatment with the toxins in overactive muscles following injury to the brain is not to just reduce the tightness, but to help the patient or caregiver in their activities that are restricted by the tightness," said Dr. Marciniak, principal investigator at the study's Northwestern site and an attending physician at the Rehabilitation Institute of Chicago (RIC).
After receiving injections, some subjects showed improvement for as long as five months.
"This is the first large-scale study demonstrating an improvement in active movement at the elbow, wrist or fingers, rather than just demonstrating that there is relaxation of the muscles around the joint," Dr. Marciniak said.
Botulinum toxin calmed co-contraction of muscles in the arm – a symptom of spasticity where opposing muscles fire at the same time – that makes it difficult to do simple tasks such as cutting fingernails or getting dressed.
"The elbow or wrist can be flexed severely and difficult to get into a sleeve for patients who have severely increased muscle tone," she said. "For patients with less severe tightness, the injections can make it easier to move the arm out to grab something or to open their hand to get it around an object."
The study also suggests that botulinum toxin injections can relieve pain related to muscle tightness.
"Hopefully this study will result in a movement toward more functional measures in future studies of these toxins in patients with spasticity, as well as assessing how concurrent treatment with physical therapy or occupational therapy can be best used to maximize the effects of such interventions," Dr. Marciniak said.
The study was funded by Ipsen, the pharmaceutical company that manufactures abobotulinumtoxinA. Dr. Marciniak served as an unpaid advisory board member for Ipsen; she received compensation from Ipsen for conducting the clinical trial.