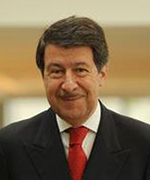 A clinical trial led by Northwestern Medicine scientist Mihai Gheorghiade, MD, has shown that higher doses of the drug vericiguat may improve outcomes for patients with worsening chronic heart failure.
The phase II study, the SOCRATES-REDUCED trial, did not meet its primary end point – a significant reduction in natriuretic peptide, a hormone that indicates heart failure. However, secondary analysis suggested that a higher dose of vericiguat may be associated with a greater reduction in peptide levels compared to lower doses.
The findings, published in the Journal of the American Medical Association (JAMA), open the door for further investigation of a new drug to treat the more than one million patients in the United States hospitalized for heart failure every year. Stephen Greene, 12' MD, 15' GME, cardiology fellow at Duke University Medical Center, and Sanjiv Shah, 00' MD, associate professor of Medicine in the Division of Cardiology, were co-authors of the study.
"We have millions of patients who have worsening heart failure in spite of all the available therapies," said Dr. Gheorghiade, a professor in Cardiology. "We can control their symptoms easily with diuretics and send them home after hospitalization much improved, but patients still have a 15 percent mortality rate and a 35 percent readmission rate within 60 to 90 days. These numbers have not changed in the last 10 years. It is of upmost importance to identify new targets that do not overlap with existing therapies."
The molecule vericiguat is a soluble guanylate cyclase stimulator aimed at upregulating signaling of cGMP, an important heart function regulator deficient in heart failure. In this study, investigators set out to assess the drug for safety and to determine the optimal dose for testing in future trials.
A total of 351 patients from across North America, Europe and Asia completed treatment over 12 weeks, receiving one of four doses of vericiguat or a placebo. Altogether, the pooled vericiguat groups did not have a statistically significant decrease in peptide levels compared to the placebo, but pre-specified secondary analysis suggested a dose-response relationship: Patients given the highest dose of 10 mg had the best results.
"We found that the 10-milligram dose appears to improve heart function by echocardiography, reduce clinical events and decrease natriuretic peptide levels without negatively affecting heart rate, blood pressure or kidney function," said Dr. Gheorghiade, also a professor of Surgery in the Division of Organ Transplantation.
Dr. Gheorghiade and colleagues believe that the findings warrant a larger phase III trial to further study clinical outcomes of patients given the drug.
"This phase II study was a necessary step to understand the drug and our patient population," he said. "We think this totally new way of treating patients is promising and hope it will enable us to reduce mortality and have a economic impact by decreasing re-hospitalization."
This study was funded by affiliates of Bayer and Merck Sharp & Dohme, a subsidiary of Merck & Co., Inc., Kenilworth, New Jersey. Dr. Gheorghiade is a paid consultant for Bayer.