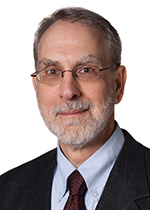 People who ate more fruits and vegetables as young adults were less likely to develop coronary atherosclerosis 20 years later, according to a recent study co-authored by Northwestern Medicine investigator Philip Greenland, MD.
The findings, published in Circulation, provide evidence that adopting a healthy diet early in life – rather than later – may decrease the odds of future cardiovascular disease.
"This study gives additional support to the importance of healthy eating beginning as early as age 18," said Dr. Greenland, the Harry W. Dingman Professor of Cardiology and director of the Center for Population Health Sciences. "Often, people only become concerned about healthy eating when they're older, but a healthy diet with fruits and vegetables throughout life is a key part of preventing disease."
The investigators analyzed data from 2,500 black and white men and women aged 18 to 30 years old who answered questions about their eating habits. Twenty years later, they had heart scans that detected coronary calcium.
"Coronary calcium is a good indicator of heart attack risk," Dr. Greenland said. "It measures the amount of calcium, one of the components that can build up in plaques that narrow heart vessels, which can rupture and cause heart attacks."
The study found that people who said they ate an average of seven to nine servings of fruit and vegetables a day were 25 percent less likely to have a significant coronary calcium in their arteries at the 20-year follow-up compared to those who only ate two to four servings a day.
"Those who ate more fruits and vegetables, not surprisingly, also tended to have healthier diets overall, including consuming more fish and healthier oils from nuts," Dr. Greenland said.
Participants did not have a heart scan at the onset of the study, so investigators could not compare coronary calcium levels at baseline and in middle age. However, Dr. Greenland said that calcium in the arteries is "nearly nonexistent in people in their 20s."
"It is likely that something about the diet influenced the favorable outcome," he said. "Even after the analyses adjusted for other factors that can affect calcium in the arteries, such as how physically active the volunteers were, whether they smoked and whether they had high blood pressure or elevated blood sugar, the effect remained significant."
Dr. Greenland is also a professor of Preventive Medicine in the Division of Epidemiology.
The data for this research came from the Coronary Artery Risk Development in Young Adults (CARDIA) Study, which is supported by the National Heart, Lung, and Blood Institute (NHLBI) grants HHSN268201300027C, HHSN268201300025C, HHSN268201300026C, HHSN268201300028C, HHSN268201300029C and HHSN268200900041C, the Intramural Research Program of the National Institute on Aging (NIA) and an intra-agency agreement between the NIA and NHLBI, grant AG0005.