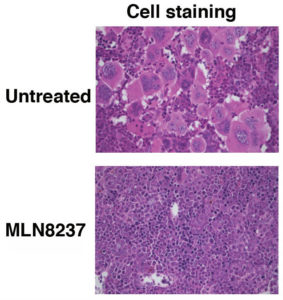 In a new study published in Nature Medicine, Northwestern Medicine scientists identified a drug that stops the reproduction of cancer cells in models of primary myelofibrosis, a rare and incurable form of chronic leukemia that disrupts normal blood cell production and causes scarring in the bone marrow.
The drug, a compound called MLN8237 also known as Alisertib, drives bone marrow cells called megakaryocytes to differentiate – to mature and stop proliferating. The scientists first tested this differentiation therapy in models of another rare leukemia, acute megakaryocytic leukemia, in a study published in Cell in 2012.
"Both megakaryocytic leukemia and myelofibrosis are characterized by immature, abnormal bone marrow cells that just keep growing," said senior author John Crispino, PhD, the Robert I. Lurie, MD and Lora S. Lurie Professor of Medicine and vice chief of research in the Division of Hematology/Oncology. "This new paper shows that Alisertib has an anti-tumor effect in samples of myelofibrosis, similar to what we saw in megakaryocytic leukemia."
The results are particularly promising because differentiation therapy is already used to successfully treat another form of leukemia, acute promyelocytic leukemia. Once considered highly lethal, that cancer is now curable in up to 90 percent of all cases thanks to a specific differentiation drug.
There are approximately 15,000 patients with myelofibrosis in the United States today; they have an average life expectancy of five to seven years after diagnosis. Right now, there's just one drug approved to help manage their symptoms, which can include fatigue, relentless fevers, bone pain and an enlarged spleen. There are no treatment options, apart from bone marrow transplantation, that can move the disease into remission.
"Current therapy doesn't significantly change what's happening in the bone marrow in most patients – that's why this finding is so important," said Brady Stein, MD, assistant professor of Medicine in Hematology/Oncology and a co-author of the new paper.
In the study, the scientists found that Alisertib reduced tumor cells, blood counts and fibrosis in mouse models of the disease. The drug induces bone marrow cell differentiation by inhibiting Aurora kinase A, an enzyme encoded by the gene AURKA. The research team showed that AURKA had elevated activity in cell samples from patients with myelofibrosis and that the immature cells in the patients could be made to differentiate in culture.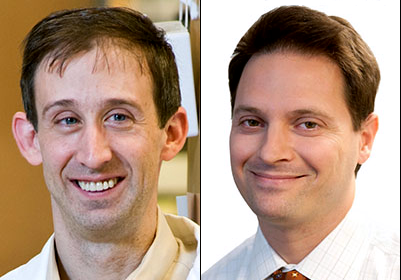 Crispino and Stein continue to research whether the drug can be a viable treatment for patients. Crispino is conducting correlative studies in the lab to see if patient samples of myelofibrosis respond to Alisertib the same way mouse models of the disease did. Meanwhile, Stein is recruiting participants for a phase I clinical trial investigating Alisertib for patients with myelofibrosis, and Jessica Altman, MD, '07 GME, co-director of the leukemia program at the Robert H. Lurie Comprehensive Cancer Center of Northwestern University, is investigating the drug in patients with megakaryocytic leukemia.
"This is a great example of bench-to-bedside research being conducted in the Lurie Cancer Center," Stein said. "The clinical trial is an investigator-initiated study based on laboratory science conducted here at Northwestern."
The published study was supported by National Institutes of Health grants HL112792 and TL1R000108, a Leukemia and Lymphoma Society Translational Research Project grant, the Samuel Waxman Cancer Research Foundation, a Dixon Young Investigator Award from Northwestern Memorial Foundation and the Northwestern University Clinical and Translational Sciences Institute (NUCATS), American Cancer Society grant 278808, the National Center for Research Resources and the National Center for Advancing Translational Sciences. The clinical trial is supported by the Leukemia and Lymphoma Society, and Takeda is providing Alisertib.
If you are interested in participating in research at Northwestern University, please call 1-855-NU-STUDY or visit https://registar-prod.nubic.northwestern.edu to sign up for Northwestern's Research Registry. Those interested in participating in a clinical trial related to this study can also learn more at clinicaltrials.gov.