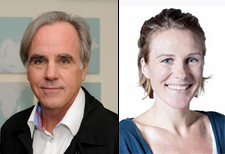 Northwestern Medicine mentors will help junior faculty at three universities in Nigeria develop research skills during a five-year program funded by the National Institutes of Health (NIH).
The program is part of the NIH's Medical Education Partnership Initiative (MEPI), which recently awarded more than $36 million to 11 institutions in sub-Saharan Africa. The region bears nearly a quarter of the globe's disease burden, but has just 3 percent of its health workforce and 1 percent of its research output, according to the World Health Organization and the World Bank.
Over the previous five years, faculty from Northwestern University and the Harvard School of Public Health partnered with universities in Nigeria to modernize their medical school curricula. In the next phase of the program, the teams will focus on expanding the research capacity at the University of Ibadan, University of Jos and the University of Lagos.
"The curricula have been radically updated – they're much more dynamic, research-focused and relevant," Robert Murphy, MD, director of the Center for Global Health and the John Philip Phair Professor of Infectious Diseases. "Now we're going to be providing junior faculty with new skillsets and giving them technical advice so they can conduct research in the areas they think are important."
Each of the three institutions in Nigeria will prioritize HIV research, but they've also identified other areas of interest, including genomics, bioinformatics, biomedical engineering, reproductive health, community medicine and chronic diseases with wide prevalence in their country, such as breast and prostate cancers.
"Historically, the United States has been in the driver's seat when it comes to research in Africa, but now the control rests entirely with the African institutions, and we're the consultants," Murphy said. "We think this is going to be a much more productive research training program in the long run."
The faculty from Nigeria will have the opportunity to travel to the United States for a 12-week period, to take classes in research methodology and to build lasting relationships with mentors from five departments at Feinberg (Medicine, Urology, Obstetrics and Gynecology, Microbiology-Immunology and Preventive Medicine), as well as the McCormick School of Engineering and the Kellogg School of Management.
"One-on-one, we'll work with the faculty members to develop a research project that they will carry out back home," said Claudia Hawkins, MD, '06 GME, assistant professor of Medicine in the Division of Infectious Diseases, who is one of the mentors on the University of Ibadan collaboration. "While visiting Northwestern, they'll learn about study design, data analysis and other aspects of research that will enable them to make great contributions to their field."
For example, Dr. Hawkins, whose own area of expertise is HIV and viral hepatitis co-infection, could support investigators who are interested in studying this condition in Nigeria.
"These faculty are really enthusiastic about expanding their research skills so that they can investigate diseases in a way that's useful to their setting," she said. "In a limited resource region, it's one thing to care for a patient. Conducting research is another level. We consider it a privilege to help the Nigerian faculty start their research careers."