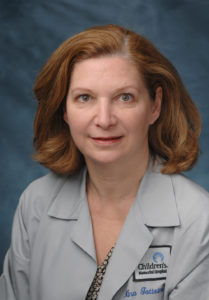 A large multi-center study including Northwestern Medicine scientists examined the outcomes and predictors of fetuses diagnosed with Epstein anomaly or tricuspid valve dysplasia, both rare congenital heart diseases associated with high mortality.
"What is most exciting about this study is that it is the largest number of fetal patients with Epstein anomaly in published literature," said Nina Gotteiner, MD, '89 '92 GME, co-author of the study and associate professor of Pediatrics in the Division of Cardiology. "A big issue with congenital heart disease is there are not a lot of patients at any one institution. So it took a tremendous amount of cooperation between the institutions to obtain this data."
From 2005 to 2011, 243 fetuses diagnosed with Epstein anomaly or tricuspid valve dysplasia from 23 centers in North America were enrolled in the study. The primary outcome of the study, published in Circulation, was perinatal mortality. The lead author of the study, Lindsay Freud, MD, '13 GME, is a former pediatric cardiology fellow at Northwestern University Feinberg School of Medicine.
The scientists reviewed fetal echocardiograms to better understand the pathophysiology of the disease and how that information can be used to determine risk factors. The authors found that a fetus having pulmonary regurgitation, or a leaky pulmonary valve, at the time of diagnosis was a powerful marker of mortality risk.
"This is a particularly tough disease to treat and can be associated with death in the neonatal period," said Dr. Gotteiner, also a member of the Stanley Manne Children's Research Institute at the Ann & Robert H. Lurie Children's Hospital of Chicago. "If we can identify risk factors associated with a poor outcome, we can help counsel families with regard to delivery location. Delivery near a cardiac center can make a big difference in clinical outcome."
Dr. Gotteiner is currently working on other studies to determine echocardiographic findings in specific fetal cardiac diagnoses and chromosome abnormalities in patients with congenital heart diseases.
"One of my big interests is to improve fetal screening for congenital heart defects," she said. "The more familiar a sonographer is with ultrasound findings in a fetus with a cardiac defect, the more likely that mother will be sent to a pediatric cardiologist for further care and counseling."
The research was supported by National Institutes of Health grant T32-HL007572, the Kenrose Kitchen Foundation and the Ossenbeck family.