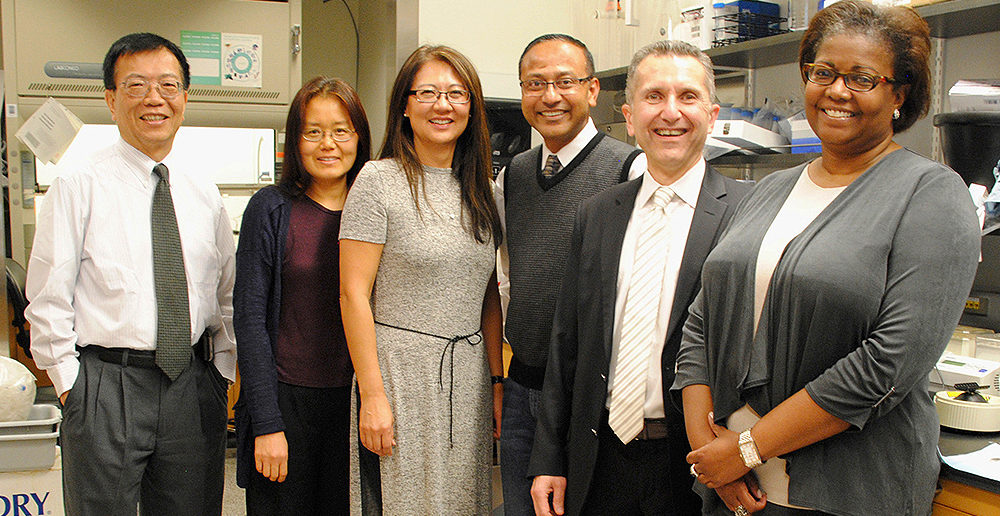 Northwestern Medicine scientists have received a five-year, $7.4 million program project grant from the National Institutes of Health (NIH) for a second phase of research to identify novel targets for treating uterine fibroids.
By age 50, about 70 to 80 percent of all women will develop uterine fibroids, noncancerous tumors also known as leiomyomas, and 15 to 20 percent of those patients experience severe symptoms that can include excessive uterine bleeding, anemia, recurrent pregnancy loss and fertility problems. Though fibroids are the most prevalent tumor in women, they have not been a frequent topic of research.
Northwestern's Uterine Leiomyoma Research Center Program, funded by the Eunice Kennedy Shriver National Institutes of Child Health and Human Development (NICHD), is the only NIH-funded basic science research program focusing on fibroids in the world.
"Northwestern is unique – we fully recognize the need to invest in this major area of women's health," said Serdar Bulun, MD, chair of Obstetrics and Gynecology and principal investigator of the program. "The collaborative work of our faculty has already led to incredible success in the field of reproduction and endocrinology."
In previous research, Dr. Bulun's faculty demonstrated that the hormone progesterone makes fibroids grow, reversing the common conception that estrogen was directly responsible, and paving the way for new drug treatments. They also discovered stem cells in fibroids that play a critical role in tumor progression.
"These stem cells make up only 1 to 6 percent of the tumor, but they lead to almost all tumor growth. If you take them away, the tumors won't grow anymore and they'll eventually shrink and die," said Dr. Bulun, who is also the John J. Sciarra Professor in Obstetrics and Gynecology and a member of the Robert H. Lurie Comprehensive Cancer Center of Northwestern University.
His group now studies the mechanisms that allow hormonal pathways and stem cells to communicate, with the ultimate goal of developing nontoxic treatments that target these pathways and stop fibroid growth. The new grant supports three separate projects that relate to this aim:
Currently, more than 200,000 women in the United States undergo hysterectomies because of fibroids, underscoring the need for more effective and less invasive treatments. To fuel new discoveries in this area, the scientists within the Uterine Leiomyoma Research Center Program make it a priority to raise awareness about their findings.
"We have not only demonstrated new targets for fibroids, we popularized them by publishing articles, giving presentations, collaborating with other groups across the country and sharing our technology for isolating the stem cells and using mouse models," Dr. Bulun said. "As this grant renews, we're still as enthusiastic about making an impact as we were at the start."
Northwestern Medicine scientists led by Dr. Marsh are also involved in a national fibroid study funded by Patient-Centered Outcomes Research Institute (PCORI) and the Agency for Healthcare Research and Quality (AHRQ).
The new program projects are funded by NICHD grant 2P01HD057877-06A1. Seed money generously provided by the Friends of Prentice was used to gather the current group of investigators and successfully submit the first NICHD application funded and supported the Uterine Leiomyoma Center from 2009 to 2014.