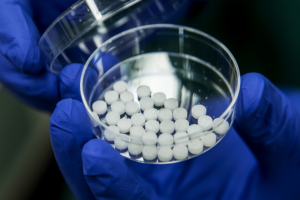 Northwestern Medicine scientists have helped develop an implantable device that detects early breast cancer metastatic cells, a method that may enable physicians to identify cancer spreading in patients while treatments are still viable.
In a study published in Nature Communications, the scientists demonstrated that small, spongy scaffolds implanted into breast cancer mouse models could recruit and capture cancer cells released from primary tumor sites early in the metastatic process, before the cells negatively impact additional organs in the body.
"We set out to create a sort of decoy – a device that's more attractive to cancer cells than other parts of the patient's body," said senior author Lonnie Shea, PhD, adjunct professor of Fertility Preservation in the Department of Obstetrics and Gynecology. "It acts as a canary in the coal mine. And by attracting cancer cells, it steers those cells away from vital organs."
The scientists envision that the scaffold could be implanted just beneath the skin of patients who have a high risk of cancer recurrence. Physicians could then monitor it for an early indication that malignant cells are circulating in the bloodstream. Normally, metastatic cancer can't be detected until it has already become fully established in another organ and therefore much more difficult to treat. In the study, cancer cells spread to the lungs 88 percent slower in mice with the implants.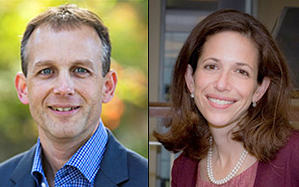 The scientists designed the scaffold to take advantage of the immune system, which has been shown to mediate metastasis in several cancers. The immune system perceives that the scaffold is a foreign object in the body and sends immune cells to ward it off. Doing so lures cancer cells to the scaffold, too.
Shea, who is a professor of Biomedical Engineering at the University of Michigan, worked with scientists at Northwestern University Feinberg School of Medicine and McCormick School of Engineering to conduct the study. He's continuing to investigate why cancer cells are drawn to certain areas of the body, and to the scaffold, in follow-up work with a team from Northwestern that includes principal investigators Vadim Backman, PhD, professor of Biomedical Engineering at McCormick, and Stephen Miller, PhD, professor of Microbiology-Immunology at Feinberg.
"It is essential for scientists and clinicians to successfully collaborate to facilitate medical progress, and the outcomes of this work are an example of this," said co-senior author of the study Jacqueline Jeruss, MD, '03 PhD, '05 GME, adjunct associate professor of Fertility Preservation at Feinberg and associate professor of Surgery at the University of Michigan. "We look forward to the next steps in this study, which will include a clinical trial."
Additional Feinberg contributors include Megan Sullivan, MD, '08 '09 GME, assistant professor of Pathology at Feinberg, and Ji Yi, PhD, Brian Aguado, Ashley Goodman, Eric Jiang, Shreyas Rao, PhD, and Yinying Ren, all at McCormick.
This work was supported by National Institutes of Health grant R01CA173745 and the Northwestern H Foundation Cancer Research Award.