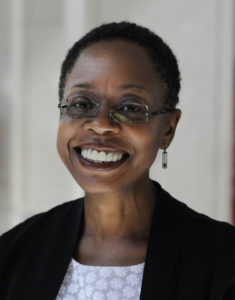 As Feinberg's new Director of Diversity and Inclusion, Teresa Mastin, PhD, is charged with strengthening existing diversity and inclusion efforts, while also communicating the school's successes, a job she says she's excited to take on.
Prior to accepting her new position, Mastin was a professor in the College of Communication at DePaul University, where she conducted research on topics including media advocacy, media portrayals of minority populations and health issues related to vulnerable populations. She also taught courses in public relations, advertising and health communication.
As director, Mastin will be responsible for the Office for Diversity and Inclusion's strategic planning, including internal and external communications, web presence and social media, and for working with departments throughout the school and the rest of the university to further strengthen and expand the office's mission.
Mastin earned an undergraduate degree from Ambassador College in Pasadena, Calif., a Master's degree in public relations from California State University, Fullerton, and a PhD in mass media from Michigan State University.
Read a Q&A with Teresa Mastin, PhD:
What attracted you to this position?
Coming from a full-time faculty position, this is a somewhat different space for me. One of the many things that excites me about the position is to have the opportunity to put into practice more fully what I shared with my students both in the classroom and as we worked with community partners.
In addition to welcoming a new professional challenge, I was also very impressed with Northwestern's commitment to diversity and inclusion throughout the university. Dr. Clyde Yancy's appointment as Vice Dean for Diversity and Inclusion and the new Diversity and Inclusion position in the Provost's office were both great indicators of the importance of these topics to Northwestern.
Why is diversity and inclusion important?
Often times when someone hears the word "diversity" they think of race and ethnicity and gender, and maybe sexual orientation, but of course diversity encompasses so much more. And sometimes parallel with these thoughts is a belief that exceptions are being made for the aforementioned groups. Our goal is to illuminate that every diversity and inclusion effort has been built on a foundation of excellence.
It's helpful to think of inclusion as a figurative Diversity 2.0. By necessity, the first diversity iteration focused on ensuring that underrepresented groups had a seat at the table, which arguably is the easier piece of the equation. Inclusion, on the other hand, is working to ensure that the broad range of perspectives are integrated holistically into the existing culture. In theory, we all know that the more diverse an organization, broadly speaking, the stronger it is as a community. Yet, the application piece can be challenging because change, both good and bad, can be difficult. I would like to help our community focus on integrating the inclusion piece into the existing culture. It is critically important that our community be a space where everyone feels comfortable and welcomed.
What is your vision for the Office of Diversity and Inclusion at Feinberg?
Everyone is attracted by and wants to be associated with excellence. There are many amazing initiatives occurring under the Feinberg diversity and inclusion umbrella. I am eager to showcase, far and wide, the wonderful things happening in this space. I am also looking forward to expanding our efforts in ways that naturally blend with existing initiatives. Ultimately, I would like to see what we are doing serve as a model across campus, across the country and across the globe, where applicable.
How do you plan to do this?
I've started by meeting with members of the Feinberg Diversity and Inclusion Council and with student group leadership. I typically begin these conversations by asking what diversity and inclusion means to them. My goal here is to be a listening ear for our varied audiences so that our office can be a tremendous resource and conduit for building a stronger, more diverse and inclusive community.
Is there anything else you'd like to add?
I think a primary way for diversity and inclusion to become an integral part of a given culture is by providing opportunities for open conversations, both organic and formal. My hope is that my being here will help facilitate individual and group conversations and engagement that lead to a deeper understanding and embracement of diversity and inclusion. It is when we spend quality time with one another that we grow together as a community. Toward that end, I see one of my most important responsibilities as elucidating in concrete terms the tremendous value of diversity and inclusion to strengthen an already impressively powerful Feinberg community.