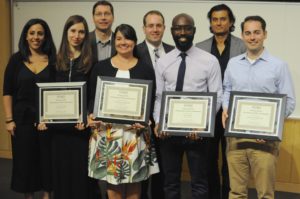 At the Fourth Annual Driskill Day, students, faculty members and alumni gathered to present research, recognize achievements and celebrate the Walter S. and Lucienne Driskill Graduate Program in the Life Sciences (DGP).
"When I sit here and listen to their presentations, they speak in another language, but it is a beautiful language," said June Barnard, president and CEO of The Driskill Foundation. To the students, she said, "Your minds are brilliant and this work you are doing is just the beginning; your journey is just beginning."
Driskill Day recognizes the $10 million commitment from The Driskill Foundation in 2011. DGP is comprised of 19 departments, including basic science and clinical departments, 192 students and 155 faculty members.
"What makes today special is recognizing the importance of our graduate training. The hard work, dedication and energy of our students enriches the research enterprise here at Northwestern University," said Nicholas Cianciotto, PhD, director of DGP and professor of Microbiology-Immunology.
At the day's events, students were presented with Driskill Research Awards. The winners were nominated by faculty and chosen by the program committee based on research work that had exceptional quality and a strong impact on the research community. The recipients gave short presentations on their thesis projects.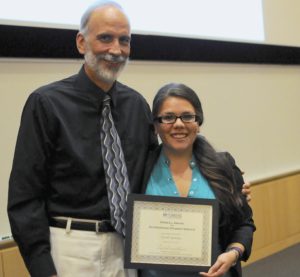 The day also included two keynote speakers, Mark Merchant, '01 PhD, senior scientist in the Department of Translational Oncology at Genentech, Inc., and Amy Wagers, '99 PhD, Forst Family Professor of Stem Cell and Regenerative Biology at Harvard University and senior investigator in the Section on Islet Cell and Regenerative Biology at the Joslin Diabetes Center.
Merchant spoke about his career path in drug development and research in cancer signaling pathways at Genentech, before offering advice to students.
"Considering your next move, know where you want to go," he said. "Really think about that and also realize your ideal job is likely not the next one. Go where you will get the best experience. Start seeking mentors early… who you really respect and believe in training you."
Wagers also shared her scientific journey from an immunology lab to a regenerative lab where she studies stem cells involved in the repair and aging of muscle tissue.
"It's a fantastic opportunity to come back and see how everything has changed and to meet new people," Wagers said. "It's fantastic to hear about the wonderful work going on here, and I think it really highlights what I value about the DGP program, the remarkable quality of the science and the remarkable breadth."
Driskill Research Award Winners:
John Brooks, PhD candidate in the lab of Mark Mandel, PhD, assistant professor of Microbiology-Immunology, discussed how he identified some of the genetic factors required for the establishment of the luminescent bacterium Vibrio fischeri in the light organ of the Hawaiian bobtail squid.
Other award recipients:
Lizzie Aguiniga, PhD candidate in the lab of David Klumpp, PhD, Anthony J. Schaeffer, MD, Professor of Urology, received the student service award.