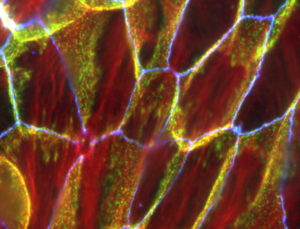 Adhesive molecules make up the glue that connects cells, allowing them to form tissues. In a recent study, Northwestern Medicine scientists explained how these molecules create junctions between cells that are not only tight, but also extremely flexible.
"From a bioengineering standpoint, this is a very interesting question: How can junctions be mechanically strong and seal the cells so tight that no pathogens or allergens can go through them, but also flexible enough that the cells can move in tissues?" said Sergey Troyanovsky, PhD, professor of Dermatology and Cell and Molecular Biology.
Abnormal cell-cell adhesion can lead to many conditions, from cancer to inflammatory skin diseases, because its functions are so crucial: maintaining a tissue's structural integrity and serving as a barrier that keeps dangerous bacteria, viruses and other substances out.
In a paper published in the Journal of Cell Biology, senior author Troyanovsky and colleagues described a new process that explains how the adhesion between epithelial cells supports two seemingly opposite properties, strength and flexibility.
An old hypothesis asserted that a protein called alpha-catenin links the adhesive molecule cadherin to components of the cell's cytoskeleton called actin filaments. The new study first showed that alpha-catenin is indeed a direct bridge connecting cadherin and actin. However, it also demonstrated that one alpha-catenin molecule does not bind to actin alone.
"When a single alpha-catenin molecule binds to actin, it promotes the immediate formation of a cluster of these molecules attached to actin," Troyanovsky said.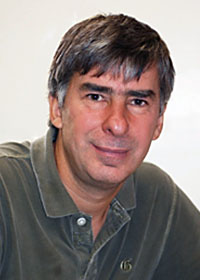 The scientists believe that in a span of milliseconds, hundreds of actin-associated alpha-catenin clusters assemble, disassemble and reassemble in a continuous process. Each cluster also associates with cadherin.
"This finding suggests a fundamentally new model of cell-cell junctions," Troyanovsky said. "According to this model, each junction consists of numerous alpha-catenin-based adhesive units. Their high adhesive strength and short lifetime explains how the junctions could be simultaneously tight and dynamic."
In cell cultures, Troyanovsky and his lab studied mutant forms of alpha-catenin that prevented the clusters from forming. Even though all the pieces of the adhesion process were present in the cells – cadherin, alpha-catenin and actin – they couldn't make contact without the clustering interaction.
In continuing research, the scientists are working with a different mutant of alpha-catenin to see what happens to cells when the clusters assemble and then persist for longer than usual.
Troyanovsky coauthored two additional papers on cell-cell adhesion this summer, another in the Journal of Cell Biology and one in Proceedings of the National Academy of Sciences. He is also a member of the Robert H. Lurie Comprehensive Cancer Center of Northwestern University.
This study, conducted in collaboration with a group of structural biologists from Columbia University, was supported by National Institutes of Health grants AR44016, AR057992 and GM062270 and National Science Foundation grant MCB-1412472.