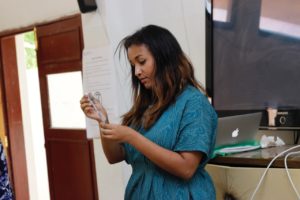 Fatima Eldigair's passion for women pursuing careers in science led her to travel to Sudan at the beginning of August to teach students there about cancer, reproductive biology and bioengineering.
Eldigair, a Sudanese-American senior at Lincoln Park High School, participated in the Oncofertility Summer Academy (OSA) at Northwestern University Feinberg School of Medicine last summer. After completing the program, she wanted to find a way for girls in Sudan to have the same opportunity.
"OSA instilled a sense of confidence in me, because women are often discouraged when it comes to pursuing careers in science," Eldigair said. "In Sudan, science is really a man's world. I want the girls there to know if they are interested in science that their gender really doesn't define their success."
Eldigair took the OSA curriculum and modified it for a classroom setting. She taught a group of 10 girls over five days at the Unity High School in Khartoum, Sudan, covering topics such as reproductive biology, the effects of chemotherapy on fertility in women and bioengineering techniques used in oncofertility laboratories. She also discussed science, technology, engineering and medicine (STEM) education and careers in the third world and how the girls can use STEM to better their communities.
As a part of Feinberg's Women's Health Science Program for High School Girls & Beyond (WHSP), Eldigair participated in OSA, as well as the Infectious Diseases Academy (IDSA) and the Women's Health Summer Academy (WHSA). These programs offer girls ages 14 to 16 the chance to do research with scientists and clinicians at Northwestern Medicine.
She also participated in the Women in Science Education (WISE) program, a sister program of WHSP where she was paired with a medical school mentor and given the tools to carry out a research project. Eldigair studied disparities in rates of oncofertility patient referral at Northwestern Memorial Hospital.
"The program changed how I view science and opened up this whole world of opportunities for me," she said.
"Fatima is one of our outstanding alumnae of the Oncofertility Summer Academy and was so personally inspired that she decided to develop the curriculum for high school girls in Sudan," said Teresa Woodruff, PhD, director of the academy and chief of Fertility Preservation in the Department of Obstetrics and Gynecology. "I'm so thrilled that this work is being exported abroad – it means that we will have Sudanese Sisters in Science joining our over 250 Science Sisters here in Chicago. Fatima is a true science ambassador, and I'm very proud of her."
Now that Eldigair has returned, she said she will analyze data from participant surveys to better understand Sudanese women's perceptions on STEM.
"I'm hoping to gain a perspective on the reality of how women and science are perceived globally and establish a connection with these women," Eldigair said.