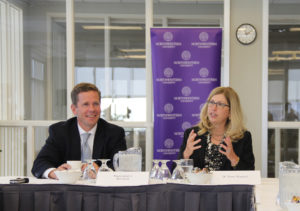 Scientists from Northwestern University Feinberg School of Medicine met with U.S. Rep. Robert Dold (IL-10) Monday to discuss federal funding of medical research and progress surrounding legislation to improve biomedical research and healthcare innovation.
Among participants at the roundtable discussion, there was broad agreement on a common goal: the need for more federal funding of medical research to accelerate progress toward new cures. Dold also shared an update on the progress of the 21st Century Cures Act, a law to improve the process of federal research funding.
"It doesn't do everything we want, but what [the 21st Century Cures Act] does do is it streamlines the bureaucracy and also provides much-needed resources to enable research to happen and to attract some of the best and brightest talent to be here," Dold said.
A main concern for Alfred George, Jr., MD, chair of Pharmacology and director of the Center for Pharmacogenomics, was the potential to lose a generation of scientists because of a lack of funding to pursue their research.
"There are a lot of very talented people out there right now, and what keeps me up at night is the fact that a lot of these very talented people probably will not be in science or they will certainly not be working in academic science research careers," Dr. George said.
The 21st Century Cures Act was approved by the U.S. House of Representatives in July and will be taken up by the U.S. Senate this fall. It contains provisions creating an "Innovation Fund," which will invest $1.75 billion per year for the next five years into the National Institutes of Health (NIH) and $110 million per year for five years in the U.S. Food and Drug Administration (FDA). The bill also includes a special provision to invest more resources into the next generation of scientists.
Dimitri Krainc, MD, chair of Neurology and director of the Center for Rare Neurological Diseases raised concerns about barriers to collaboration and the need to incorporate patient perspectives into research.
"Patients don't care about all the barriers we pose to each other in scientific work. They want us to work together; they want us to be smart about our work and to find these cures as soon as possible," Dr. Krainc said.
The bill also contains measures to remove barriers to collaboration and incorporate patient perspectives into the drug development and regulatory review process.
In addition to the roundtable, Dold toured the laboratory of Elizabeth McNally, PhD, MD, director of the Center for Genetic Medicine and professor of Cardiology in the Department of Medicine.
Along with her colleagues, Dr. McNally, who is also a professor of Biochemistry and Molecular Genetics, explained new therapies and procedures they are currently testing. She also shared news from her recent visit to Washington, DC, where she testified before the House Subcommittee on Research and Technology about the science and ethics of genetically engineered human DNA.
At the end of the event, Dold thanked the scientists for their work and asked for their continued support and guidance.
"What you are doing each and every day impacts lives, and we certainly appreciate what you are doing," Dold said. "I am going to come back and ask all of you to be our champions and ambassadors and arm me with the stories that are happening here and at neighboring facilities."