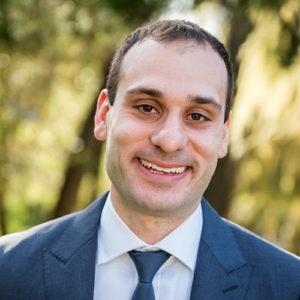 About a quarter of all cancers have mutations in a set of genes called Ras. Though they were the first genes discovered to cause cancer in human cells, Ras remains extremely difficult to target in treatments. Behnam Nabet, '15 PhD, who just completed his doctorate in the Driskill Graduate Program in Life Sciences (DGP), researches how Ras turns normal cells into cancer cells.
In a recent study published in Cell Reports, he showed that mutated Ras changes the activity of genes in the cell nucleus by reprogramming a compact structure of DNA, RNA and proteins known as chromatin.
"Mutant Ras, through different enzymes, remodels chemical tags on proteins in chromatin at regions of the genome known as enhancers, which control whether a gene will be on or off," said Nabet, who was the paper's first author.
Genes turned on too much activate pathways that push the uncontrolled cell growth that can lead to cancers.
"I wanted to know how an uncontrolled signal promoted by Ras leads to changes in the cell nucleus during cell transformation," Nabet said.
In the paper he identified specific signaling pathways and genes that make mutated Ras oncogenic – cancer causing.
"For example, I found that irregular activation of a protein known as Prkcb is vital for the growth and survival of an oncogenic Ras-transformed cell," Nabet said. "Cells with oncogenic Ras are more sensitive to an inhibitor targeting Prkcb, suggesting that Prkcb is a candidate drug target in cancers driven by oncogenic Ras."
The study showed that abnormal Ras activation – and the uncontrolled cell growth it leads to – can be reversed with compounds that inhibit the signaling pathways and enzymes that alter chromatin organization.
Nabet worked on this research in the lab of senior author Jonathan Licht, MD, chief of Hematology/Oncology in the Department of Medicine.
"Feinberg's DGP has been the perfect program to help me discover and pursue my interest in cancer biology research," Nabet said. "Jon provided me with the freedom and flexibility to address difficult scientific questions, as well as the funding and environment to mature as an independent scientist."
Nabet was supported by a National Institutes of Health (NIH) T32 training grant GM08061 and a Robert H. Lurie Comprehensive Cancer Center Malkin Scholars Award. Now that he has earned his PhD, Nabet will move on to a postdoctoral fellowship at the Dana-Farber Cancer Institute.
This study was also funded by NIH grant CA59998, the Lynn Sage and Northwestern Memorial Foundations, National Cancer Institute Physical Sciences-Oncology Center grant U54CA143869, National Institute of General Medical Sciences T32 training grant GM007288 and Department of Defense Congressionally Directed Medical Research Programs award CA120184.