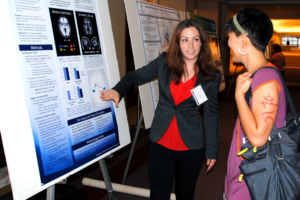 Students, postdoctoral fellows and faculty across Northwestern gathered for Feinberg's fifth annual Movement and Rehabilitation Sciences (MRS) Training Day, showcasing research collaborations among several departments and training programs in the field of movement and rehabilitation sciences.
The event included a poster session featuring work from scientists in Northwestern University's Interdepartmental Neuroscience Program (NUIN), McCormick School of Engineering, Feinberg's Department of Physical Therapy and Human Movement Sciences and more, all focused on making research advancements to improve patient rehabilitation.
Rachel Hawe, PT, '13 DPT, a PhD candidate in the DPT-PhD (Eng) program, presented work that combines the fields of physical therapy and engineering.
Hawe uses a magnetic resonance imaging technique called diffusion tensor imaging (DTI) to examine brain lesions in pediatric hemiplegia that occur shortly before or after birth and can cause movement impairments. Looking at the corticospinal track, Hawe examines the effect hemiparetic timing has on the damage caused by the lesion and what can be done to correct the resulting motor deficits.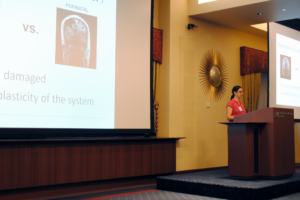 "In the future, we would like to take a step further: from looking at the corticospinal track to looking at cortical changes, seeing where these pathways end up in the cortex and making a link from the morphological changes in the brain to how they impact movements within the body," Hawe said.
In addition to the poster session, there were several presentations and a keynote address from Todd Kuiken, '90 MD, '89 PhD, '91, '95 GME, professor of Physical Medicine and Rehabilitation.
Dr. Kuiken discussed his more than 25 years of experience in the rehabilitation field, including developing life-changing prosthetics for his patients. He also shared career advice with students and trainees, highlighting the importance of perseverance when pursuing research that moves from a laboratory setting to clinical application.
"My scientific goal is to always to improve the function of people with amputations, especially with prosthesis, but in the clinic I care much more about people being happy, which can be a much harder goal," said Dr. Kuiken, who is also a professor of Surgery and has an appointment at the McCormick School of Engineering.
The gathering included four training programs funded by the National Institutes of Health: the PhD in neuroscience with an emphasis on movement and rehabilitation sciences (NUIN-MRS); the unique dual DPT/PhD (Eng) program, which combines a doctoral degree in physical therapy with PhD training in engineering; the Pathophysiology and Rehabilitation of Neural Dysfunction (PRND) T32 program; and the Interdisciplinary Rehabilitation Engineering Career Development (IREK12) K12 program, which recruits, trains and supports scholars with engineering and other quantitative backgrounds on their way to becoming quantitative rehabilitation scientists.
PTHMS ranks among the top 10 U.S. physical therapy schools in the country by U.S. News & World Report.