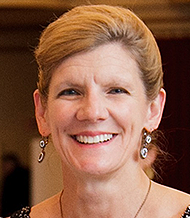 After nearly 15 years of leadership, M. Christine Stock, '81 MD, James E. Eckenhoff Professor and Chair of Anesthesiology, has stepped down as chair of the department.
Howard Chrisman, MD, MBA, professor of Radiology and Surgery, and vice-president for Clinical Affairs at Northwestern Medical Group, will serve as interim chair of the Department of Anesthesiology. A national search will be conducted to recruit a successor to Dr. Stock, who will continue on as a professor in the department.
"During her tenure as chair, Christine has provided strong leadership to the Department of Anesthesiology," said Eric G. Neilson, MD, vice president for Medical Affairs and Lewis Landsberg Dean. "Faculty, residents and students have benefited from her thoughtful mentorship, and she has seen the department through a time of significant change, both within the medical school, and in the field of anesthesiology. We thank her for her service."
Dr. Stock completed her medical degree, residency and critical care fellowship at Northwestern University Feinberg School of Medicine, before joining the faculty of Emory University in Atlanta in 1985. There, she was assistant professor of Anesthesiology, medical director of Respiratory Care Services and medical co-director of the Surgical Intensive Care Unit at Grady Memorial Hospital in Atlanta. She was promoted to tenured associate professor in 1991, then named associate chief of Anesthesiology Services at Emory University Hospital in 1994 and clinical service chief in 1998.
Dr. Stock is a past president of the Association of Anesthesia Clinical Directors and the American Society of Critical Care Anesthesiologists and is a member of the editorial board of the Journal of Clinical Anesthesia.
Dr. Chrisman, who will serve as interim chair during the search process, received his medical degree and Master of Business Administration degree from the State University of New York at Syracuse in 1991. He completed his residency at the University of Virginia Hospitals in 1996 and fellowship at the McGaw Medical Center of Northwestern University in 1997. His research interests focus on image-guided therapy and its application to the treatment of uterine fibroids through minimally invasive techniques. He has previously served as the interim chair of the Department of Radiology.