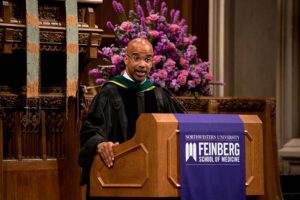 View a slideshow of photos from Founders' Day.
As the keynote speaker at Feinberg's 157th Founders' Day, Clyde Yancy, MD, Magerstadt Professor and chief of Cardiology in the Department of Medicine, shared the lessons he has learned throughout his career with the Class of 2019.
"Today you are medical students, my students, but soon you will be physicians, my peers," said Dr. Yancy, also the vice dean of Diversity and Inclusion at Feinberg and associate director of the Bluhm Cardiovascular Institute at Northwestern Memorial Hospital. "I have shared with you today that at the core of many of us is a desire for competence, civility and compassion in ourselves and in our colleagues. Remember, there is no substitute for competence; that civility costs nothing and buys everything; manage your biases… be caring, be compassionate."
Founders' Day is a day of celebration honoring Feinberg's founders and welcoming the entering class of first-year medical students to the medical profession.
At the beginning of the ceremony, Eric G. Neilson, MD, vice president for Medical Affairs and Lewis Landsberg Dean, welcomed guests.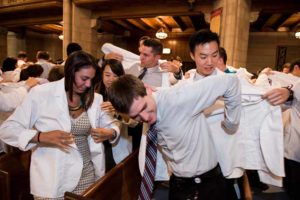 "The founders conceived and introduced a new model of education with standards that have attracted students for over 156 years, who have become outstanding physicians, scientists and leaders," Dr. Neilson said.
He asked students to consider what they might do to improve the profession and human health beyond the individual patient.
"This is an important question deserving your attention over the next few years," Dr. Neilson said. "Rest assured that within the broad opportunities at Feinberg, you'll find a problem to solve. Feinberg, as it always has, will prepare you well for whatever path you choose to follow."
Second-year medical students and mentors presented each member of the Class of 2019 with his or her white coat.
"It's great to get our white coats and have a physical symbol of the first step in our journey to become physicians," said Javier Suarez, a first-year medical student. "I am looking forward to starting the year and learning new things in science, as well as treating patients in the future."
Kaitlyn Sacotte, another first-year medical student, said she enjoyed being presented her white coat by second-year student Taylor Sutcliffe.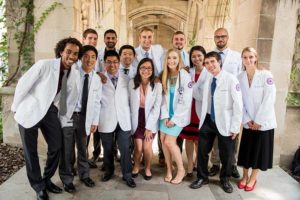 "It was great to have someone there to welcome you and usher you into the profession," Sacotte said. "I'm looking forward to not only learning about medicine, but also getting to know my classmates."
Brianna Knoll, president of the Medical School Student Senate and a third-year medical student, presented the Student Senate Service Awards to students in their second year, in recognition of their community service and leadership at the local, national and international levels during their first year at Feinberg. Selected by their peers, award recipients were: John Campo, Srivarshini Cherukupalli, Anthony Garcia, Noelle Martinez and Andy Nian.
Before attending the Nathan Smith Davis Founders' Day reception, sponsored by the Medical Alumni Association, students recited the Declaration of Geneva, the modern-day equivalent of the Hippocratic Oath.
"The ceremony really made me feel initiated into a profession," said Jessica Quaggin-Smith, a first-year medical student. "As we put on our white coats together, I felt like I was a part of a community."