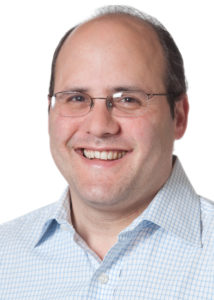 Harris R. Perlman, PhD, professor in Medicine-Rheumatology, will succeed Richard Pope, MD, as chief of Rheumatology, starting September 1st.
"The Division of Rheumatology's culture of scholarship, discovery and service reflect the leadership of Dr. Pope over the last 25 years," said Douglas E. Vaughan, MD, chair of Medicine. "Harris Perlman is a gifted and successful investigator and will catalyze the future growth and success of the unit. These are big shoes to fill, but we are confident and excited to have him assume leadership of the division."
Perlman's lab investigates the impact that macrophages, a type of white blood cell, and dendritic cells play in rheumatoid arthritis and systemic lupus erythematosus. He also studies the relationship between systemic inflammation and atherosclerosis, or hardening of the arteries.
"I feel exhilarated by this tremendous opportunity and am excited to work with the outstanding faculty that Dr. Richard Pope, the outgoing chief, has assembled during his tenure," said Perlman, also the Solovy-Arthritis Research Society Professor and a member of the Interdepartmental Immunobiology Center and the Robert H. Lurie Comprehensive Cancer Center of Northwestern University.
"My central goal is for Northwestern Medicine to become the premier rheumatology program in the United States. This will be accomplished by bringing new skills, energy, enthusiasm and international recognition to the division, which can propel us to the forefront of the field."
After completing his PhD from Tufts University in Boston, Perlman completed postdoctoral training at Northwestern University to further his studies on apoptosis and the cell cycle in Dr. Pope's lab. He joined the faculty as an assistant professor in Medicine-Rheumatology in 2001 with a secondary appointment in Microbiology-Immunology. Perlman left to serve as a professor in Saint Louis University's Department of Molecular Microbiology and Immunology until 2008, when he returned to Feinberg.
Over the course of his career he has published more than 90 peer-reviewed papers and is co-editor and chief of Arthritis Research and Therapy. He is a member of the American Association for the Advancement of Science, the Arthritis Foundation, the American College of Rheumatology, the American Heart Association, the American Association of Immunologists and the International Society for Analytical Cytometry.
"Since returning to Northwestern, Dr. Perlman has expanded his scope to include macrophages and dendritic cells, examining a variety of diseases," said Dr. Pope, also the Mabel Greene Myers Professor of Medicine. "The strength of his collaborations is that he promotes and enables the success of others. He has a deep interest in and commitment to the education of rheumatology fellows, postdoctoral trainees and students. His energy, vision and concern for others are strengths that will serve him well in his new role. I look forward to working with him, as he leads the division to new heights."
Dr. Pope's lab studies the biology of macrophages in rheumatoid arthritis, specifically directed at defining the mechanisms that promote resistance to cell death or apoptosis.