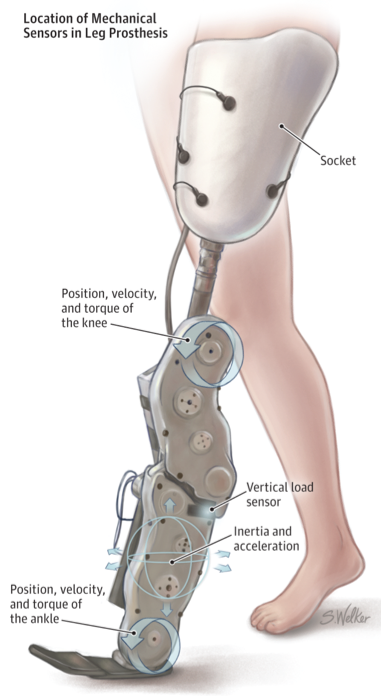 Scientists from Feinberg and the Rehabilitation Institute of Chicago (RIC) have developed a bionic leg that gives patients with above-knee amputations better control over movement than current prosthetics.
The new knee-to-ankle prosthesis, detailed in a paper published in the Journal of the American Medical Association (JAMA), non-invasively decodes natural electric signals called electromyographic (EMG) signals that are generated from muscle contractions to make walking easier.
"Bionic limbs offer a great deal of functionality," said corresponding author Levi Hargrove, PhD, assistant professor in Physical Medicine and Rehabilitation. "They allow for more natural walking patterns, and they have the potential to recover from trips or stumbles. But for these limbs to be useful, they have to be safe and have intuitive control systems."
Currently-available leg prostheses can't easily transition between different kinds of walking, such as walking on level ground, going up or down ramps or climbing stairs. To switch from one kind of movement to another, patients have to slow down, stop, press buttons on a controller or make exaggerated movements like rocking back and forth.
Working with senior author Todd Kuiken, '90 MD, '89 PhD, '91, '95 GME, associate dean for hospital academic affairs at RIC and a professor at Northwestern, Hargrove engineered a control system that enables prostheses to automatically anticipate the kind of movement an individual wants to make and to respond accordingly.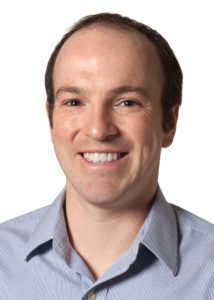 The process involves placing electrodes that record EMG signals over study participants' thigh muscles, along with mechanical sensors on top of the prosthesis. A computer chip in the leg reads the electrical and mechanical information as a patient walks and combines it with data about prior strides to predict each new movement and to command the motors in the knee and ankle to take action.
The investigators tested the system on seven patients, men and women of a variety of ages. All of them showed significant and consistent improvements in real-time control of different walking modes when compared to walking without the EMG signaling.
"We are trailblazing a path toward a new class of prosthetic devices," Hargrove said. "It's exciting that we are laying the foundational research that others will use for years to come to help people."
Major lower limb amputation caused by trauma or cancer affects more than 100,000 patients in the United States per year. But before patients can have access to the new control system for prostheses, Hargrove's group needs to carry out an in-home clinical trial, which has already begun with support from the U.S. Army, and should be completed within four years.
"We also need to make the system learn from and correct any steps that are incorrectly predicted. The National Institutes of Health is sponsoring a study to address this and we are already making fantastic progress," Hargrove said.
This study was funded by the Telemedicine and Advanced Technology Research Center, an office of the headquarters of the United States Army Medical Research and Materiel Command, under award W81XWH-09-2-0020.