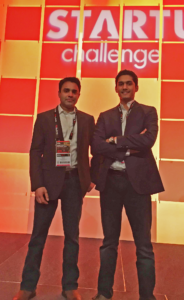 A multidisciplinary team at Northwestern University developed a customizable intraocular lens for patients undergoing cataract surgery that eliminates the need for glasses after the procedure. Their start-up company, Opticent Health, was recently awarded a National Science Foundation Innovation Corps (I-Corps) grant to help bring the technology to market.
"The premise of this program is to strengthen the impact of scientific discoveries and to facilitate the transition from bench to bedside by understanding the commercial viability for technology," said Rushi Talati, a third-year medical student and chief operating officer of Opticent Health.
I-Corps is a set of activities and programs that prepares scientists and engineers to extend their focus beyond the laboratory and broadens the impact of select basic-research projects funded by the National Science Foundation.
As part of the project, Talati conducted a customer discovery process, interviewing more than 100 patients, ophthalmologists, optics experts and FDA regulatory agents to better understand the process that is involved in making medical technologies commercially available.
"I realized that there are a lot of regulatory constraints," he said. "This entire process has given me a better sense of the interplay between many of the governing factors that are critical to improving patient care."
Talati entered medical school wanting to use the knowledge he gained from his undergraduate education in mechanical engineering to improve the delivery of healthcare and medicine.
"I've learned that you can engineer the perfect solution to a problem but if there is a patent out there that covers even a small part of the innovation, it may never be able to reach the patient," he said.
Other members of Opticent Health include: Kieren Patel, PhD, a second-year JD/MBA student from Northwestern University Law School and Kellogg School of Management, the company's president and chief executive officer; Cheng Sun, PhD, associate professor of Mechanical Engineering at McCormick School of Engineering and Applied Science, the company's co-chief technology officer; Hao Zhang, PhD, associate professor in Ophthalmology and Biomedical Engineering at McCormick, the company's co-chief technology officer; and Jay Patel, MD, the chief medical officer.
"I think there is incredible value to be gained from taking a multidisciplinary approach to problem solving," Talati said. "I think this is true of some of the most groundbreaking technology that we see in medicine today and I feel very fortunate to gain this insight so early in my career."
The group is currently in the process of pre-clinical validation and running small-scale experiments.
"I envision a career where I can combine my clinical practice with this process of identifying problems, asking questions and engineering solutions," Talati said.