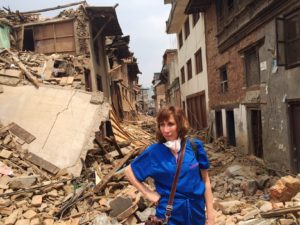 Twelve hours after the devastating 7.8 magnitude earthquake in Nepal, Victoria Brander, MD, associate professor of Clinical Physical Medicine and Rehabilitation, and co-founder of Operation Walk Chicago, was in contact with colleagues at the Nepal Orthopedic Hospital (NOH), a 100 bed orthopedic hospital dedicated to care for the underserved in Kathmandu, and figuring out how to help.
"They were inundated with trauma patients, experienced continued aftershocks, had no direction or support from the Nepali government and there were no relief agencies on the ground," Dr. Brander said. "They had no idea how they would continue to operate, fund or care for the hundreds of patients that were showing up at the hospital."
Soon after, Dr. Brander, her co-founder David Stulberg, MD, professor of Clinical Orthopaedic Surgery, and doctors at NOH offered to help convert the hospital into a charity facility for earthquake victims. Drs. Brander and Stulberg had worked with NOH for six years through Operation Walk Chicago, a non-profit medical humanitarian organization they founded that provides free hip and knee replacement surgeries for patients in impoverished communities across the world.
"We have a long-term relationship with this orthopedic hospital so when the earthquake hit we were in immediate contact with them to find out what they needed," said Dr. Stulberg. "They were one of the central centers for providing care to the injured."
While the NOH staff focused on providing care to patients, the members of Operation Walk Chicago focused on obtaining resources and medical instruments, implants and supplies, in addition to paying the hospital's operating costs and sending U.S. medical teams to Nepal when needed.
Since the first earthquake, NOH has triaged and treated more than a thousand patients and performed hundreds of surgeries.
"There are patients being treated on the lawn under a field hospital tent, in the lobby and in every hallway," Dr. Brander said. "Dr. Saju Pradhan, orthopedic surgeon at NOH, told me their team of doctors and nurses are willing to risk their lives for the compassionate care of these patients. These are real heroes."
Dr. Brander and a small team from Operation Walk Chicago traveled to Nepal shortly after the earthquake to carry out surgeries on patients with conditions that the Nepalese surgeons didn't have expertise in, and to help the hospital set up processes to streamline care and review cases. The team included Scott Cordes, '83 MD, '84 '88 GME, assistant professor of Clinical Orthopaedic Surgery; William Gilligan, '62 MD, '67 GME, orthopedic surgeon; Kirin Chekka, MD, '07 GME, anesthesiologist; Liz Cumpian, Northwestern Memorial Hospital post-anesthesia care unit nurse; and Eliot Rosado, a former nurse at Northwestern.
Outside of the hospital, Dr. Brander and her team have also provided medical care to patients at nearby villages and triaged patients to other facilities that can treat their injuries.
"Our plan is to continue to help fund the hospital, while they care for earthquake victims, send teams of specialists when requested, use our resources to assist the hospital in data collection and analysis, and with clinical and administrative program development to meet their needs," Dr. Brander said.
In collaboration with the Global Health Initiative Fund (GHI), Operation Walk Chicago has sent container shipments of long-term relief supplies and coordinated relief efforts with other organizations. GHI has also provided communication and assistance for outreach with Northwestern Memorial Hospital, and arranged for the faculty members to take roller bags of emergency surgical supplies with them when they travel to Nepal. GHI provides resources for global health research initiatives and education programs benefitting medical students, residents, fellows and faculty members of Feinberg.
"The GHI has always been committed to helping provide healthcare resources to people in need all over the world," said Robert Havey, MD, founder of the GHI Fund and assistant professor of Clinical Medicine-General Internal Medicine and Geriatrics. "We recognized the dire need for relief supplies and care at Nepal Orthopedic Hospital. Thousands of people have been injured and sickened by the earthquakes in the Kathmandu region. We are grateful to all our partners who have joined with us in responding so rapidly to this crisis."
As the aftershocks continue NOH and Operation Walk still face many challenges including replacing damaged medical equipment and supporting the families of those that are injured and displaced.
"We are working to continue to raise money to buy new equipment and supplies and pay for healthcare professionals to work around the clock," Dr. Stulberg said. "Even as the patients with acute injuries are getting under control, now the second wave of surgical procedures and rehabilitation are needed."
Read more about Northwestern Medicine doctors' relief efforts and view a video of their work in Nepal.