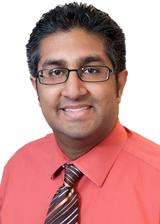 Changes in blood pressure, heart rate, temperature and level of consciousness can indicate that a hospital patient's condition will soon worsen. But combining those objective physiologic parameters with a physician's personal judgment may be a better way to accurately predict clinical deterioration, according to a new Northwestern Medicine studypublished in JAMA Internal Medicine.
The investigators tested a seven-point scoring system called the Patient Acuity Rating (PAR), which was developed by the University of Chicago to measure physicians' perceptions of how sick a patient may become in the next 24 hours.
"Many times, caregivers can sense something is wrong before the patient shows those changes," said first author Amitkumar Patel, MD, assistant professor in Medicine-Hospital Medicine. "By quantifying physician perceptions of severity of illness and entering this information into the electronic health record, we can begin to improve how quickly we respond to a subtle change in the patient's condition."
In this prospective and blinded study, attending physicians determined a PAR score for more than 3,000 patients. On a seven-point scale, the physicians predicted the likelihood that the patients would experience cardiac arrest, require intensive care unit transfer or need special assistance from a rapid response team.
The same patients also received a more objective rating called the Modified Early Warning Score (MEWS), which identifies risk based on vital signs – a measure that's already inputted into many electronic health records. The study found that the judgment-based PAR was equivalent to the MEWS in predicting patient outcomes, and that a combination of both the subjective and objective scores was more accurate than either score alone.
"The study shows that physician perception of illness is a meaningful and valuable addition to objective findings," Dr. Patel said. "Simply put, if a patient has a higher combined score, then there is a higher chance of transfer to ICU, cardiac arrest or use of rapid response teams in the next 24 hours."
Further research can investigate how incorporating both PAR and MEWS scores into electronic health records will influence deployment of additional resources to high-risk patients.
"The ability to affect change for patients prior to further deterioration could potentially reduce use of ICU beds and provide a more immediate response prior to a cardiopulmonary arrest event," Dr. Patel said.