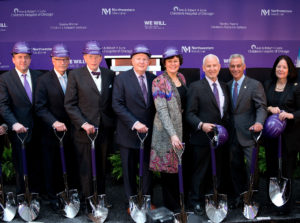 On May 8, 1925, Northwestern University broke ground on its first Chicago campus building. Exactly ninety years later, the Feinberg community gathered to celebrate its newest expansion, the Louis A. Simpson and Kimberly K. Querrey Biomedical Research Center.
"This is a landmark moment in our history, and one that will impact health for generations to come, here in Chicago and around the country," said Eric G. Neilson, MD, vice president for Medical Affairs and Lewis Landsberg Dean at Friday's event. "Today, we build on a legacy of 156 years of innovation and discovery and open a bold new chapter in the history of Northwestern University."
Leaders from the university, Northwestern Medicine, the Ann & Robert H. Lurie Children's Hospital of Chicago and the city of Chicago joined Dean Neilson at the groundbreaking ceremony for the 600,000-square foot, 14-story building, which will be connected to the Robert H. Lurie Medical Research Center between East Superior Street and East Huron Street. It will house nine laboratory floors dedicated to biomedical research.
"Absolutely nothing is done in the hospital or clinic today that didn't start as an experiment somewhere in the laboratory. Biomedical research informs patient care," Dean Neilson said. "Our building will help draw talented faculty, students and postdoctoral fellows to Chicago and will provide an opportunity to improve human health."
The Stanley Manne Children's Research Institute will occupy four floors in the Biomedical Research Center.
"Together we're going to be focusing on very important areas for the population that we share: genetics, heart disease, cancer and neurology, just to name a few," said Pat Magoon, president and CEO of Ann & Robert H. Lurie Children's Hospital of Chicago. "With today's groundbreaking, we're a step closer to achieving that objective."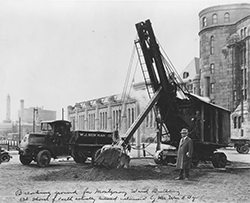 The building will also support collaborations between scientists at Feinberg and other schools at Northwestern University, and add more than 2,500 construction jobs and 2,000 permanent, full-time positions.
"This center cements Chicago's leadership in the world," said Rahm Emanuel, mayor of Chicago. "Chicago as a city now not only has the technology, not only has the talent, not only has the training to create the jobs of today in the healthcare field, but also the cures for the diseases of tomorrow."
A $92 million naming gift from benefactors Louis A. Simpson and Kimberly K. Querrey enabled construction of the building, which is projected to open in late 2018. It's designed to accommodate up to an additional 15 laboratory floors in the future.