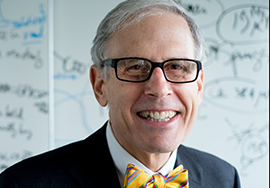 Barry Coller, MD, vice president for medical affairs and David Rockefeller Professor at Rockefeller University, will address graduates, parents and guests at Northwestern University Feinberg School of Medicine's 156th commencement on Monday, May 18.
Dr. Coller's research focuses on molecular interactions between blood cells and blood vessels with the goal of developing new therapies for thrombotic diseases such as heart attack and stroke.
"We are delighted to have Dr. Coller join us as our commencement speaker," said Eric G. Neilson, MD, vice president for Medical Affairs and Lewis Landsberg Dean. "Dr. Coller is a distinguished scholar, a thoughtful academic leader, and a compassionate physician. I'm certain our students will greatly benefit from his wisdom."
While studying the receptors responsible for platelet aggregation, Dr. Coller found a specific platelet receptor that led him to develop an antithrombotic drug called abciximab. Current research in Dr. Coller's lab focuses on multiple areas of platelet physiology.
Dr. Coller earned his medical degree from the New York University School of Medicine in 1970 and completed his residency in internal medicine at Bellevue Hospital in New York City. He received advanced training in hematology and clinical pathology at the National Institutes of Health.
Prior to joinging the faculty of Rockefeller University, Dr. Coller worked at Stony Brook University from 1976 to 1993, and then served as a professor and chair of medicine at Mount Sinai School of Medicine. At Rockefeller, he is head of the Laboratory of Blood and Vascular Biology, physician in chief of The Rockefeller University Hospital and vice president for medical affairs. Dr. Coller serves as director of The Rockefeller University Center for Clinical and Translational Science and director of the Center for Basic and Translational Research on Disorders of the Digestive System.
Dr. Coller is a member of the Institute of Medicine, the National Academy of Sciences and the American Academy of Arts and Sciences. He is a past president of the American Society of Hematology and was founding president of the Society for Clinical and Translational Science.