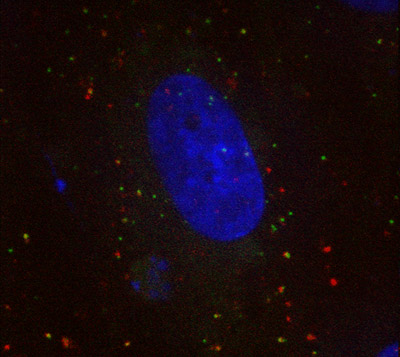 New Northwestern Medicine research has uncovered how HIV moves within cells and demonstrated how the virus exploits the function of host factors for its own movement within cells.
In previous studies, Mojgan Naghavi, PhD, associate professor in Microbiology-Immunology, screened cells that were resistant to retrovirus infections in order to find the gene that caused the resistance; it turned out to be FEZ-1. She learned that protein FEZ-1 was part of a microtubule motor, proteins involved in trafficking cellular cargo within the cell. Armed with that knowledge, Naghavi sought out to find out if FEZ-1 could affect HIV movement in the cell.
So, Naghavi and her team infected cells with fluorescently tagged HIV to track the virus from the time it entered the cell, all the way through to the nucleus, where the virus replicates.
"It's not well known how the virus traffics to the nucleus; it has been shown by other scientists that it is bidirectional movement, but nobody knew the mechanism," Naghavi said. "Other people have shown that viruses use cellular motors of opposing direction in a "tug of war" fashion to reach the nucleus randomly, but we show that this direction of movement is not random; that viruses can specifically interact with a host factor like FEZ-1 to regulate this movement."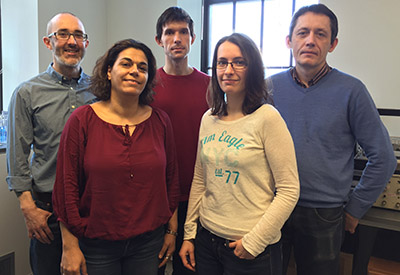 The results of the study were recently published in Nature Communications.
Naghavi found that the proteins on the inner shell of HIV known as capsids bind to FEZ-1 to regulate viral movement towards the nucleus. By studying different expression levels of FEZ-1, they learned increasing the amount of FEZ-1 reduced viral infection above a certain threshold, findings that suggest FEZ-1 could act as an antiviral factor for HIV in cell types such as neurons, but can also act as a positive factor in other cell types expressing lower levels of this factor.
Her team also showed that two other motor proteins, kinesin-1 and dynein, are required for successful viral trafficking to the nucleus.
Next, Naghavi plans to study how FEZ-1 affects early and late stages of the virus' life cycle. Further studies will aim to better understand how the virus regulates and controls these motors and if other viruses also use this mechanism.
"We are looking into DNA viruses such as the herpes simplex virus because they are quite different than HIV, an RNA virus, and see if FEZ-1 can regulate the trafficking of those viruses to the nucleus," she said. "We also want to know if FEZ-1 is important for other stages of the viral life cycle."
The study was funded by National Institutes of Health (NIH) grant GM101975 and GM105536, a Schaefer Scholarship Award, and NIH grant AI087390.