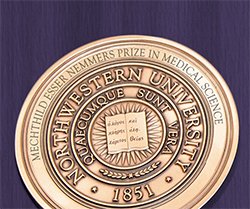 Physician-scientist nominations invited for new 2016 prize
Northwestern University has created a $200,000 Mechthild Esser Nemmers Prize in Medical Science. The inaugural prize will be awarded in early 2016 and every other year thereafter.
Candidacy for the 2016 Nemmers Prize in Medical Science is open to physician-scientists whose body of research exhibits outstanding achievement in their disciplines as demonstrated by works of lasting significance.
The 2016 recipient of the Nemmers Prize in Medical Science will deliver a public lecture and participate in other scholarly activities at Northwestern.
"We look forward to honoring a groundbreaking physician-scientist, someone whose interest in medicine informs and inspires his or her research," said Eric G. Neilson, MD, vice president for medical affairs and Lewis Landsberg Dean. "At Feinberg, we are committed to fostering scientific discovery and innovation that will benefit human health and lead to tomorrow's cures."
"Innovations in the medical field in recent years truly are astounding, and we greatly look forward to awarding the first Nemmers Prize in Medical Science," said Northwestern Provost Daniel Linzer. "This is a worthy addition to the legacy and breadth of the Nemmers prizes at Northwestern."
This award is made possible by a generous gift to Northwestern by the late Erwin Esser Nemmers and the late Frederic Esser Nemmers. The Mechthild Esser Nemmers Prize in Medical Science is the fourth Nemmers Prize to be established by Northwestern and joins the Erwin Plein Nemmers Prize in Economics, the Frederic Esser Nemmers Prize in Mathematics and the Michael Ludwig Nemmers Prize in Music Composition.
Nominations for the prize will be accepted until Sept. 15, 2015. Nominating letters of no more than one page should describe the nominee's professional experience, accomplishments and qualifications for the award, along with a curriculum vitae of the nominee. Nominations from experts in the field and institutional nominations are welcome; direct applications will not be accepted. Individuals of all nationalities and institutional affiliations are eligible except current or recent members of the Northwestern faculty and recipients of the Nobel Prize.
Nominations can be submitted at http://www.feinberg.northwestern.edu/nemmers