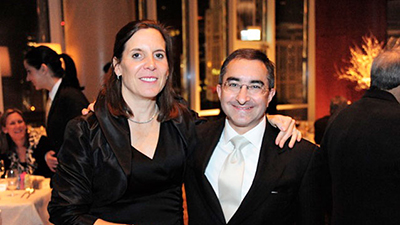 Northwestern University alumni Muneer Satter and Kristen Hertel have committed $10.5 million to the University to fund educational opportunities for deserving Northwestern scholars.
Nearly $8.5 million of the gift will support the Satter Foundation Scholarship program at Northwestern University Feinberg School of Medicine. This $40,000 per year merit-based scholarship is awarded to three outstanding first-year students and continues through their third year of medical school.
"Muneer and Kristen's generosity provides remarkable opportunities to superb students who are poised to become tomorrow's leaders in medicine," said Eric Neilson, MD, vice president for medical affairs and Lewis Landsberg Dean. "We are grateful for their extraordinary commitment to fortify this scholarship fund for future generations."
Through the Satter Scholars Program, the medical school has already provided full tuition support to 18 exceptional students since the program's inception in 2008.
"Kristen and I are committed to the goal of assuring a Northwestern education to promising future physicians and medical scientists," Satter said. "These scholarships are investments that will ultimately benefit medical science and humanity."
An additional $2 million from Satter and Hertel will support the Project Excite program and other initiatives within the School of Education and Social Policy.
Since its start in 1998, Project Excite has helped close the achievement gap between minority and non-minority students in Evanston through supplemental education, personal academic advising and targeted programs that help students get into college.
"The gift will extend Project Excite in local high schools, allowing us to create new college-access programs that will support minority and low-income high school students so they can achieve their potential," said Penelope Peterson, PhD, the Eleanor R. Baldwin Professor of Education and dean of the School of Education and Social Policy.
"With help from programs like Project Excite, talented high school students will be able to thrive," Hertel said. "We hope to make a difference one student at a time."
More information on We Will. The Campaign for Northwestern is available at http://wewill.northwestern.edu.