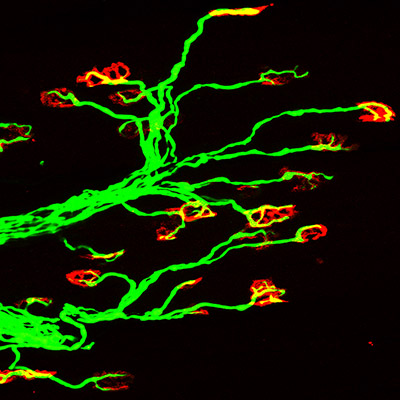 In a recent publication, Northwestern Medicine scientists uncovered a signaling pathway that contributes to motor neuron degeneration in spinal muscular atrophy (SMA), the leading inherited cause of infant mortality.
"Currently there are no effective therapies for spinal muscular atrophy and our goal is to find a cure for the disease, but first we need to understand how it happens and why motor neurons die, which leads to paralysis and eventual death," said Yong-Chao Ma, PhD, assistant professor in Pediatrics, Neurology and Physiology, and a member of Stanley Manne Children's Research Institute of the Ann & Robert H. Lurie Children's Hospital of Chicago .
Ma investigated the regulating protein tau, which previous research has shown plays a role in other neurodegenerative diseases including Alzheimer's and Parkinson's, in a paper published in The Journal of Neuroscience.
"The protein tau is very widely studied in aging-related diseases, so it is surprising that this protein is involved in a pediatric disorder," Ma said.
In the study, Ma demonstrated how hyperphosphorylation, a signaling mechanism used by cells to modulate protein functions, is increased in the motor neurons of SMA animal models and also in human SMA patient spinal cord samples. Ma also showed the increased phosphorylation of tau in motor neurons affected by SMA does not form aggregates, even in late stages of the disease, unlike other neurodegenerative diseases.
His team expanded the study to include a zebrafish model and two mouse models of SMA, which confirmed previous findings that phosphorylation promoted motor neuron degeneration and showed that decreasing phosphorylation in the fish and mouse SMA models rescued motor neuron disease phenotypes.
Together, these results help to further understand the pathogenesis of SMA and other neurodegenerative disorders.
"This is the beginning: we uncovered this signaling pathway and have identified other targets that regulate motor neuron functions in this disorder," Ma said. "Next, we will gather more insights into how the disease happens and find new strategies for therapies."
This research was funded by the Schweppe Foundation, the Whitehall Foundation, Cure SMA, the Spinal Muscular Atrophy Foundation, and National Institutes of Health Grants R01NS062869 and AG043970.