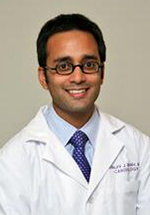 A major challenge in the treatment of chronic medical conditions is that one size does not always fit all: diseases such as diabetes, hypertension and heart failure can affect widely variable patient populations. In an effort to better predict how diverse patients will respond to treatments, Northwestern Medicine investigators used "big data" tools to classify for the first time three distinct categories of one cardiac syndrome called heart failure with preserved ejection fraction (HFpEF).
The findings were published in Circulation.
"In recent years, the medical community and the government have recognized the need for 'precision medicine,' which tailors therapies to individual patients to tackle heterogeneous chronic medical conditions," said first author Sanjiv Shah, '00 MD, associate professor in Medicine-Cardiology.
Though precision medicine research often focuses on uncovering the genetic determinants of disease, many diseases actually have only limited heritability.
"The majority of chronic medical conditions are a result of environmental influences and complex interactions between various risk factors," Dr. Shah said. "We need a new approach to understand them."
In 2007, Dr. Shah established a novel clinic at Northwestern dedicated to the diagnosis and treatment of HFpEF, a common heart failure syndrome also known as diastolic heart failure. The clinic's research component, funded by an American Heart Association grant, aimed to combat the problem of heterogeneity in HFpEF.
In the new study, Dr. Shah and colleagues, including Dr. Rahul Deo, MD, PhD, of the University of California, San Francisco, analyzed a combination of 67 laboratory, electrocardiographic and echocardiographic markers with machine learning algorithms to find patterns in 397 patients with HFpEF. They call the process "phenomapping."
"These types of approaches are typically used for genetic data, but we instead used the computer algorithms on non-genetic data gathered from our patients in the clinic," Dr. Shah said. "Our analysis revealed, for the first time, that there are three types of HFpEF that are very different in terms of clinical characteristics and outcomes."
The investigators validated the results in an additional 107 patients with the syndrome.
Currently, therapy options do not improve outcomes for the 3 million adults in the United States afflicted with HFpEF. The study's findings may ultimately help improve the track record of overwhelmingly unsuccessful clinical trials.
"Large-scale clinical trials have failed to demonstrate a significant benefit for any HFpEF treatment. That was really the impetus behind the phenomapping analysis," Dr. Shah said. "In future clinical trials, we hope to match specific groups identified by our study to specific, tailored treatments, thereby potentially leading to more successful clinical trials and ultimately achieving our goal of precision medicine for our patients."
This work was supported by American Heart Association Scientist Development Grant 0835488N and National Institutes of Health grants R01 HL107557, both to Dr. Shah; and K08 HL093861 and DP2 HL123228 to Dr. Deo.