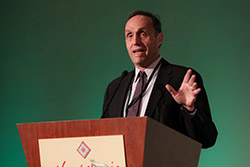 Lee M. Jampol, MD, Louis Feinberg, MD, Professor of Ophthalmology, was awarded the Macula Society's highest honor, the Michaelson medal, and gave the Michaelson lecture at the 38th Annual Macula Society Meeting in February.
"I am tremendously gratified to be recognized with this honor by a highly respected group in the retina field," Dr. Jampol said. During the meeting, Dr. Jampol gave the Michaelson lecture on the history of diabetic retinopathy, discussing advances in the field since the 1940s.
The honor is given every three years in appreciation for the scientific contributions of I.C. Michaelson, MD, whose research on development and pathophysiology of the retinal vasculature laid the groundwork for future retina scientists.
Dr. Jampol has worked at Feinberg for more than 30 years, studying inflammatory diseases of the retina, cystoid macular edema, pharmacology of the retina and central serous chorioretinopathy, and served as chair of Ophthalmology from 1983-2010.
"The Michaelson medal is one of the greatest honors bestowed in academic ophthalmology and honors Dr. Jampol and all that he has accomplished over his career," said Nicholas J. Volpe, MD, chair of Ophthalmology. "It is awarded by the Macula Society by peers to an individual who has made consistent and unique contributions to the field of retinal disease. Dr. Jampol embodies the excellence acknowledged by this award. Dr. Jampol continues with an incredibly high rate of academic productivity. I wish him hearty congratulations on this much deserved award."
Dr. Jampol was also president of the Macula Society from 1994-96. Founded in 1977, the society is a forum for new research in retinal vascular and macular diseases and membership is by application, with acceptance criteria including extensive contribution to retinal literature.