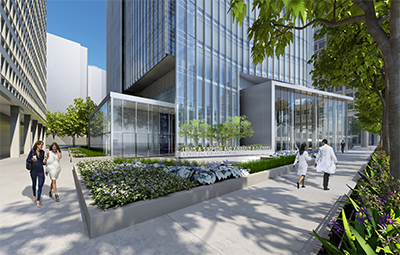 Sets new campaign record of $117.8 million in total giving from single benefactor
Northwestern University Trustee and alumnus Louis A. Simpson and his spouse Kimberly K. Querrey have made an additional $92 million gift to Northwestern University in support of the University's biomedical research programs at Northwestern University Feinberg School of Medicine.
The latest gift comes just a year after the couple made a $25 million gift to Northwestern to endow the Louis A. Simpson and Kimberly K. Querrey Institute for BioNanotechnology in Medicine (SQI). SQI is conducting some of the world's most innovative, interdisciplinary research in applying nanotechnology to regenerative medicine. These gifts, along with the couple's earlier gifts, bring their total contributions to We Will. The Campaign for Northwestern to $117.8 million. This represents the largest amount given by a single donor to the campaign.
In recognition of their generosity, the new biomedical research center on Northwestern's Chicago campus will be named the Louis A. Simpson and Kimberly K. Querrey Biomedical Research Center.
Construction will begin this year on the 12-story Biomedical Research Center that will be connected to the Robert H. Lurie Medical Research Center. The new state-of-the-art research center, comprising approximately 600,000 square feet, will have nine laboratory floors. It has been designed to accommodate an additional 15 laboratory floors of vertical expansion in the future.
"This gift will be a catalyst for Northwestern Medicine's mission to advance biomedical research informing patient care," said Dr. Eric Neilson, vice president for medical affairs and Lewis Landsberg Dean at Feinberg. "The gift will enable us to both build on established areas of strength and develop new areas of excellence and expertise. In addition, with this gift, the total amount raised for the Campaign for Northwestern Medicine will surpass $1 billion."
The Simpson Querrey Biomedical Research Center will provide new space for SQI investigators and collaborators as well as other biomedical scientists working in cancer, heart disease, neurodegenerative disorders and genetics. It will help draw the most talented research faculty, Ph.D. students and postdoctoral fellows, and will provide new research opportunities for medical students, residents and clinical fellows on both the Evanston and Chicago campuses.
"Regenerative medicine is both a great challenge and a great hope. We want to regenerate parts of the human body lost to trauma, aging, disease and genetic factors," said Samuel I. Stupp, who has led SQI since its founding. "We are seeking to go beyond the current boundaries of medical science and in doing so, provide hope to those afflicted by these factors."
In addition, the facility located in the heart of Northwestern's academic medical campus will facilitate the opportunity for venture space, generate start-up companies and promote scientific discovery that will save lives and improve health. Planning for the new building includes four floors for the Stanley Manne Children's Research Institute of the Ann & Robert H. Lurie Children's Hospital of Chicago and will accommodate collaborative research conducted by Northwestern's McCormick School of Engineering and Applied Science, Northwestern Medicine's department of physical medicine and rehabilitation and the Rehabilitation Institute of Chicago.
"Lou and Kimberly are truly exceptional philanthropists," said Northwestern President Morton Schapiro. "Their understanding of our biomedical research enterprise is remarkable, and their leadership and commitment to Northwestern inspire all of us. We are deeply grateful for this latest expression of their enormous faith in Northwestern University and the important work that is ahead."
Simpson is a Northwestern Board of Trustees member and a 1958 alumnus of the University's Judd A. and Marjorie Weinberg College of Arts and Sciences, and his son, Ted, is a 1996 graduate of Northwestern's Kellogg School of Management. Lou Simpson has been on the Northwestern Board since 2006 and serves on the investment and educational properties committees. He is chairman of SQ Advisors, LLC, an investment advisory firm located in Naples, Florida. Previously, he was president and CEO of Capital Operations at GEICO Corporation.
Querrey is president of SQ Advisors. Previously, she was president of Querrey Enterprises, a consulting firm. She currently serves on the board of directors and executive committee for both Artis Naples and the Chicago Council on Global Affairs. She is also a member of the Council on Foreign Relations.
The couple resides in Naples, Florida.
"Kimberly and I are proud to support the leading-edge science that is occurring at Northwestern," Simpson said. "The research that is being done now will have a real impact on people's lives and give new hope to those who have been affected by injuries and disease."
The couple's new gift comes on the heels of a $100 million gift to Northwestern made in January by Roberta Buffett Elliott, the largest single gift in the University's history.
Total giving to We Will. The Campaign for Northwestern now stands at $2.2 billion.
The We Will Campaign is a $3.75 billion University-wide fundraising initiative announced in March 2014, when the campaign total was $1.52 billion. The funds raised through the campaign will help realize the transformational vision set forth in Northwestern's strategic plan and solidify the University's position among the world's leading research universities. More information on We Will. The Campaign for Northwestern is available at wewill.northwestern.edu.