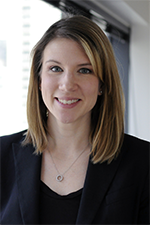 Nicole Mladic has been appointed executive director of communications for Northwestern University Feinberg School of Medicine, effective immediately. Mladic has served as the interim executive director of the Office of Communications since early December.
"I am grateful for the opportunity to continue advancing Feinberg's educational and research mission during this extraordinary time in the medical school's history," Mladic said. "As Feinberg works to grow the research enterprise and our clinical affiliates expand access to care, I look forward to helping achieve Northwestern Medicine's ambitious goals to transform healthcare as we build our reputation nationally."
As executive director, Mladic will be responsible for Feinberg's overall communications strategy, including branding/co-branding, public relations, web presence and social media, working with Northwestern University and Northwestern Memorial Healthcare as partners in Northwestern Medicine.
"Nicole has established herself as a superb communicator with a deep understanding of the unique needs of an academic medical center, and brings to this position a wealth of experience in marketing and communications in the healthcare industry. The medical school is experiencing a period of unprecedented growth and achievement, and Nicole is the ideal choice to connect with external audiences and enhance our growing national reputation," said Eric Neilson, MD, vice president for Medical Affairs and Lewis Landsberg Dean.
Mladic joined the Office of Communications in 2009 as a communications director for the medical school, playing a leadership role in Northwestern Medicine and Feinberg communications and branding, managing communications efforts for the Feinberg Research Office, including the Breakthroughs newsletter and planning and execution of the annual campus-wide Research Day, overseeing Feinberg's social media presence, and collaborating with media relations teams at Northwestern University and Northwestern Memorial Hospital.
Prior to working at Feinberg, Mladic spent eight years, most recently as vice president, at MSL Chicago, the Midwest hub of MSLGroup, a large international public relations firm. There, she developed and managed award-winning media relations and social media programs for large national clients in the pharmaceutical industry, professional healthcare organizations, and higher education – including Northwestern University Kellogg School of Management. At MSL Chicago, she was a member of the senior leadership team, senior manager on education accounts, and a core member of MSL's North American digital practice, and was honored with numerous awards.