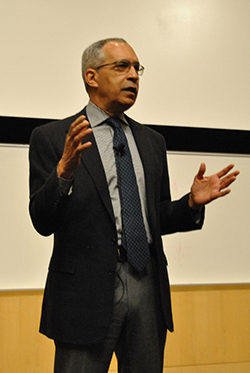 On Tuesday, Claude Steele, PhD, author of the 2014-2015 One Book One Northwestern selection "Whistling Vivaldi: How Stereotypes Affect Us and What We Can Do," spoke to students and faculty from Northwestern University Feinberg School of Medicine and the School of Law about his research involving stereotype threat, a psychological phenomenon he says drives behavior throughout American society.
He argued that stereotype threat is the force behind many professional and educational inequities. Through his research, he has studied why African American students with the same SAT scores as their white peers go on to earn lower grades in college and why women who excel in math perform worse on a difficult test than their male counterparts.
"When you push people to the frontier of their skills in an area where their group is negatively stereotyped, you see this underperformance," said Steele, a social psychologist and executive vice chancellor and provost at the University of California, Berkeley. "You see this vividly in athletics and in academics – something mysterious happens, an extra weight that undermines performance."
Steele discussed how professionals can navigate stereotype threat.
"As medical educators we want to know how to facilitate true confidence and excellence in all of our students and trainees," said John Franklin, MD, associate dean for minority and cultural affairs and professor in Psychiatry and Behavioral Sciences and Surgery-Organ Transplantation. "Dr. Steele's seminal work exposes how people of all sorts – under high-stakes situations and stereotype threat – can underperform in relationship to their true abilities. What makes Dr. Steele's work particularly germane to medical and legal educators is his insight and advice on how to be better teachers and mentors, and overcome the burden of unconscious stereotype threat."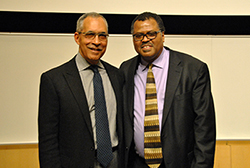 Negative stereotypes, Steele said, are associated with every kind of personal identity: race, religion, age, sex and so on.
"When you're in a situation where a negative stereotype about one of those identities is relevant to what you're doing, you know at some level that you could be seen or treated in terms of that stereotype," Steele said. "That prospect becomes a problem."
When these stereotypes come to fruition, it's not because of internal weaknesses, Steele explained. Rather, it's due to internalization of these stereotypes – the distraction and frustration that comes from trying to defend against them. Steele described his research efforts to prove how stereotype threat affects school performance and touched on steps that academic institutions can take to remedy the phenomenon. The key, he said, is building trust and safe settings to help people overcome their vulnerability to it.
"Whistling Vivaldi," is a summary of Steele's research on group identity and the ways stereotypes can undermine the people they target. The community-wide One Book One Northwestern reading program, hosted by the Office of the President, features lectures, films and discussions throughout the academic year. Feinberg's Office of Diversity and Northwestern Law sponsored Tuesday's event.
The full schedule of One Book events is available here.