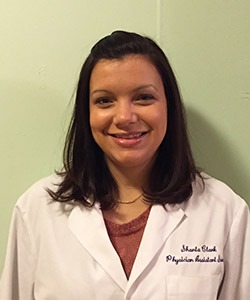 Shanta Clark, a second-year American Indian physician assistant student, returned home to complete her family medicine rotation, with her tribe's ambulatory clinic in Southwestern Michigan.
Clark said it was an honor to work with the Pokagon Band of Potawatomi and its Department of Health Services, which provides care to adult and pediatric American Indian patients.
"Having an opportunity to complete my rotation with this clinic was a goal I had even before getting into PA school," said Clark, also the first Feinberg PA student to complete a rotation with an American Indian tribe. "As a tribal member, I was familiar with some of the services that are provided for the clinic's citizens, and have long been impressed with their holistic model of care."
In addition to family medicine, the tribe's multidisciplinary clinic offers a wide range of services including behavioral health, podiatry, gynecology, dietetics, dentistry, on-site pharmacy and traditional healing.
As part of the PA program's clinical rotation, Clark took patient histories and physicals while shadowing her preceptor. During the rotation, she also conducted wellness screenings for patients ranging from newborns to elderly patients, and was exposed to a variety of cases including diabetes management, orthopedic injuries and skin conditions.
"I really learned the importance of developing a rapport with patients and maintaining that relationship over a long time," she said. "It was also interesting to see the social barriers patients face and how as a provider you should take those things into consideration."
During her time in the clinic, Clark observed some of the challenges her patients faced, including transportation to the clinic, financial issues and health literacy. She spent time with her preceptor exploring how they could best coordinate the healthcare of their medically complex patients, who might see multiple specialists.
"His role was to make sure a patient understood what the specialists wanted, and to create a strategy that worked for the patient. Being able to get patients to understand what was going on with their health care was empowering," Clark said.
This rotation also gave Clark experience in rural medicine experience and allowed her to learn about the operation of a federally-funded clinic.
"In Chicago, there is a hustle and bustle to see patients, and I feel the perspective at the clinic was different. I could see how spending extra time to make sure the patients understand about how their health care can change the trajectory of their health," she said. "It really brought me awareness of the importance of a holistic approach to care, and is something I will strive to incorporate into my own clinical practice."
After graduating this spring, Clark plans to return to the Pokagon Band to work as a PA at the clinic.
"It is an exciting time to be a Pokagon. I have never met a group of people more dedicated to their mission of promoting health and wellness," she said. "They take such pride in providing quality health care to our citizens and are on their way to empowering our citizens to live healthier lives."