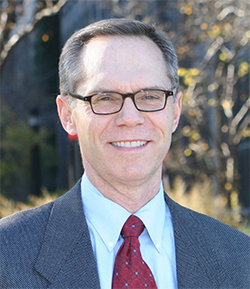 David Baker, MD, MPH, Michael A. Gertz Professor of Medicine and chief of the division of Medicine-General Internal Medicine and Geriatrics, has been appointed executive vice-president at the Joint Commission, overseeing the Division of Healthcare Quality Evaluation.
"David has been an active leader and committed investigator. His accomplishments, in areas of health equity and beyond, have had a broad impact on the medical school community and the healthcare system as a whole," said Eric G. Neilson, MD, vice president for Medical Affairs and Lewis Landsberg Dean. "We wish him great success in the future."
Dr. Baker, who will maintain an appointment with Feinberg as an adjunct professor after he joins the commission, has dedicated his career to improving population health, focusing primarily on understanding disparities in healthcare delivery and quality of care for chronic medical conditions. He joined Feinberg in 2002 to lead the division of General Internal Medicine and Geriatrics and has since served as deputy director of the Institute for Public Health and Medicine (IPHAM), a professor in the Center for Healthcare Studies and Medical Social Sciences and a member of the Robert H. Lurie Comprehensive Cancer Center of Northwestern University.
"It has been very satisfying to recruit and mentor many outstanding junior faculty and watch them grow into nationally-recognized researchers with robust research programs," said Dr. Baker, who grew his division from three to 18 investigators during his tenure.
Dr. Baker said he particularly valued his collaborations with Daniel Dunham, MD, director of the division's primary care practice, to implement programs improving quality, safety and access to care and with Kevin O'Leary, MD, '00 GME, chief of Medicine-Hospital Medicine, to establish Northwestern Medicine's hospitalist service.
"Through all of this, I greatly benefited from the wisdom of the other division chiefs, department chairs and other leaders in Feinberg and Northwestern Medicine. It has been an incredible experience working at Feinberg, and I have grown professionally and personally," Dr. Baker said.
He earned his medical degree in 1985 and a master's degree in public health in 1991, both at the University of California, Los Angeles (UCLA) and completed residency and an internship at the University of California Medical Center, Los Angeles LAC Harbor. Before arriving at Feinberg, he taught at UCLA, Emory University and Case Western Reserve University.
Dr. Baker has received many honors and awards, including the Alvan R. Feinstein Memorial Award presented by the American College of Physicians for his major contributions to clinical epidemiology. His research includes more than 200 peer-reviewed publications and multimillion-dollar grants from the National Institutes of Health, the Agency for Healthcare Research and Quality, the American Heart Association and the Robert Wood Johnson Foundation.
His research has focused largely on health literacy and the consequences of inadequate health literacy – he was one of the principal investigators for the first major study to measure it. He is also the principal investigator of the grant that established the Center for Advancing Equity in Clinical Preventive Services. Earlier this year, he published the most complete and up-to-date picture of racial/ethnic disparities in  U.S. colorectal cancer screening rates.
Under his leadership, Northwestern Medicine's geriatrics program was ranked number 11 in the country by U.S. News and World Report last year.
"David has provided remarkable leadership for the Division of General Internal Medicine for the last 13 years. He has assembled an exceptional faculty, who not only provide outstanding clinical care, but also comprise a very successful group of investigators in vascular disease, quality improvement and safety, use of electronic health records, patient education and communication and reducing disparities for historically underserved communities," said Douglas Vaughan, MD, chair of Medicine.
The Joint Commission is an independent, not-for-profit organization that accredits and certifies health care organizations and programs in the United States.