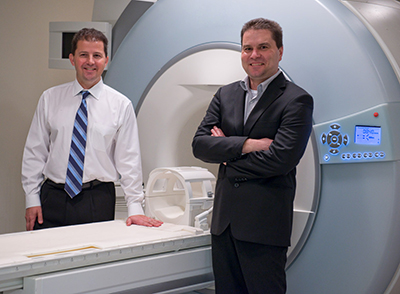 After a heart transplant, patients undergo an intensive monitoring period – usually including 12 to 16 biopsies in the first year alone – to check for serious complications. To make this process less costly and invasive, Northwestern Medicine scientists are developing an MRI test to replace some of those heart biopsies.
The multidisciplinary team led by Radiology professors James Carr, MD, '01 GME, Knight Family Professor of Cardiac Imaging, and Michael Markl, PhD, Lester B. and Frances T. Knight Professor of Cardiac Imaging, aims to establish a short comprehensive MRI protocol that will identify structural and functional abnormalities in the heart.
"The current way to evaluate inflammation and rejection is by doing a biopsy," said Dr. Carr, a principal investigator of the five-year, $3 million National Institutes of Health (NIH) funded study. "Detection with an MRI is noninvasive and quick – easier for the patient and easier to read."
The test will help clinicians monitor patients for early-stage complications, such as inflammation due to rejection, and prevent major long-term problems, such as chronic rejection and cardiac allograft vasculopathy, a dangerous thickening of the arteries. According to current literature, between 5 and 20 percent of patients have a rejection episode in the first year after their transplant.
"We also want to quantify some of the disease process – to develop techniques that give us numerical values that will identify an abnormality and indicate its severity," Dr. Carr said.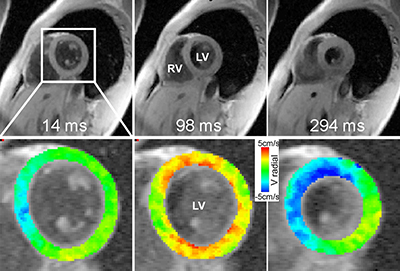 The investigators plan to recruit patients having heart transplants at Northwestern Memorial Hospital and then perform the new MRIs at prescribed periods during the first year of recovery alongside the current biopsy regime.
"We're going to compare the MRI to the biopsy to see if we can use our technique to detect rejection in the future, using the biopsy as the reference standard," Dr. Carr said.
The ultimate goal for future patients is to integrate MRIs into the standard evaluation process and, in doing so, to reduce the number of invasive biopsies – perhaps by half or even more. Pilot research, published in Circulation: Cardiovascular Imaging, showed promising results.
Another aspect of the new study is a cost-effectiveness analysis.
"Once we know the techniques work to find these complications, we will see if incorporating MRI results is a cheaper way of managing these patients," Dr. Carr said. "We need to balance sensitivity with cost."
Gordon Hazen, PhD, a professor in the Department of Industrial Engineering and Management Sciences at the McCormick School of Engineering, will collaborate with Feinberg investigators for this assessment.
Additional departments involved in this study include Medicine-Cardiology, Surgery-Cardiac Surgery and Pharmacology, as well as Biomedical Engineering at McCormick. Funding is provided by NIH National Heart, Lung, and Blood Institute grant 1R01HL117888-01A1.
If you are interested in participating in research at Northwestern University, please call the NU Study line at 1-855-NU-STUDY. Or get connected by visiting https://registar-prod.nubic.northwestern.edu to sign up for Northwestern's Research Registry.