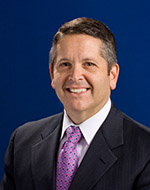 The Department of Ophthalmology received an $115,000 unrestricted grant from Research to Prevent Blindness (RPB) to support research into the causes, treatment and prevention of blinding diseases.
"Research to Prevent Blindness has been there for the Northwestern Department of Ophthalmology for more than two decades providing continuous support through its unrestricted grant to the department as well as numerous other individual grants to faculty members," said Nicholas J. Volpe, MD, George and Edwina Tarry Professor and chair of Ophthalmology. "This year is an exciting time as we welcome Gregory W. Schwartz, PhD, assistant professor in Ophthalmology and Physiology, to the faculty, as his work as a synaptic physiologist and computational neuroscientist will undoubtedly help to shed light on how the retina works."
The grant in the past has supported several members of the department including Dr. Volpe and Amani A. Fawzi, MD, associate professor in Ophthalmology, and their work in discovering the unanticipated ophthalmologic manifestations of amyotrophic lateral sclerosis (ALS), among other research projects.
"The unrestricted grant finds its way into the support profile of much of our research activity as a department centered around retinal physiology, diabetic retinopathy, macula degeneration, corneal diseases, uveitis and glaucoma," Dr. Volpe said. "More than 45 individual research publications in 2014 have credited and received support from the departmental grant. There is no single greater facilitator of our research mission than RPB."
RPB is the world's leading voluntary organization supporting eye research. To date, the organization has awarded grants totaling $3,195,000 to Feinberg.