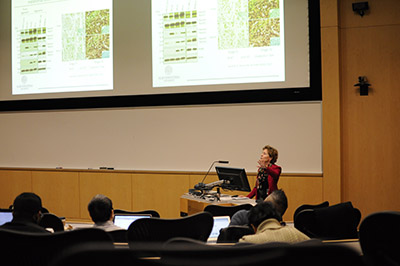 On November 12, the fourth annual Nano Boot Camp for Clinicians, hosted by the International Institute for Nanotechnology, the Robert H. Lurie Comprehensive Cancer Center of Northwestern University and the Northwestern University Center of Cancer Nanotechnology Excellence, showcased current advances in nanotechnology and the opportunities to translate these innovations to the clinic.
Leonidas C. Platanias, MD, PhD, director of the Lurie Cancer Center, opened the event by welcoming clinicians, medical students and scientists.
"Nanotechnology is something we are fortunate to be a leader in here at Northwestern," he said. "Nanotechnology is an important and exciting area for the cancer center and for our programs."
C. Shad Thaxton, MD, PhD, assistant professor in Urology, gave an overview of nanotechnology and the history of the field. He described and gave examples of how nanotechnology has been applied to medicine such as in diagnostics, delivery agents and therapeutics.
Amy Paller, MD, chair of Dermatology, discussed the use of spherical nucleic acids, an arrangement of densely packed genetic material, to deliver gene therapy for skin disorders. Dean Ho, PhD, professor at the UCLA School of Dentistry spoke about using nanodiamonds to create new treatments for cancers.
As the event came to an end, Mary Hendrix, PhD, president and director of Stanley Manne Children's Research Institute, discussed her work using nanoflares to study nodal, an embryonic growth factor that underlies unregulated tumor growth, metastasis and resistance to conventional drugs. Nanoflares enable detection of intracellular RNA and could be used for finding and selecting stem cell markers.
"Nanotechnology gives us the opportunity to use nanoflares for targeting cancer stem cells and drug resistant subpopulations," she said, "therefore providing new prognostic biomarkers and targets for therapeutic intervention."
Xiao-Qi Wang, MD, PhD, research associate professor in Dermatology, said she found Hendrix's presentation useful.
"Dr. Hendrix's research demonstrated that dissecting heterogeneous and developing specific targeting strategies to treat tumors may overcome the drug resistance and lead the cure for cancers," Dr. Wang said.
Seok-Jo Kim, PhD, research assistant professor in Medicine-Pulmonary, said attending last week's event would give him a better understanding of nanotechnology that he could adapt to his current research.
"Our group's focus is on finding a treatment for pulmonary fibrosis using drug or other therapies," he said. "We have molecules to inhibit pulmonary fibrosis, and nanotechnology will be needed to deliver them into the lungs in the future."