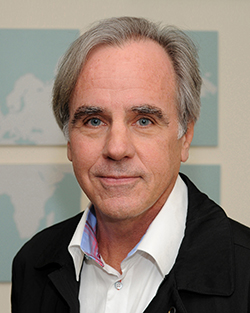 Robert Murphy, MD, '81, '84 GME, director of the Center for Global Health and John Philip Phair Professor of Infectious Diseases has been awarded funding to develop low-cost on-site tests to detect and monitor hepatitis C for patients in sub-Saharan Africa.
The five-year, $3 million project, supported by a grant from the National Cancer Institute's (NCI) Center for Global Health (CGH), aims to identify patients at risk for developing hepatocellular carcinoma, a common and deadly type of liver cancer frequently caused by chronic hepatitis B or C infection.
More than 80 percent of the world's cases of hepatocellular carcinoma occur in sub-Saharan Africa, where the cancer is not usually diagnosed until its late stages, when average life expectancy for patients is just one to three months.
"The new hepatitis C tests will identify infected people, who will then be offered treatment and screened for cancer," said Dr. Murphy. "We hope to catch the cancer at an earlier stage and provide treatment with better outcomes."
Nipping hepatitis C in the bud could prevent the liver cancer from forming in the first place. The virus is curable, but it's difficult to diagnose in Africa. Many patients don't have visible symptoms until it has already started to damage the liver, and the vast majority of people at risk for it don't have access to existing diagnostic blood tests.
"Right now, the tests for viral hepatitis are sent to central referral laboratories that are relatively expensive and not available to most in Africa," said Dr. Murphy. "Our easy-to-use, point-of-care tests could be done anywhere."
In the first two years of project funding, Dr. Murphy and his collaborators at the McCormick School of Engineering will build testing platforms designed for use in low-resource countries. One test will detect the hepatitis C antigen to diagnose the disease. A second test will determine when to start therapy and monitor the viral response to treatment.
In the final three years of funding, the scientists will put the tests to practice in laboratory and clinical studies at the Jos University Teaching Hospital in Jos, Nigeria.
The project team includes Sally McFall, PhD,  and Robert Elghanian, PhD, both of McCormick's Biomedical Engineering department;  Kara Palamountain, MBA, from the Kellogg School of Management; Claudia Hawkins, MD, '06 GME, assistant professor in Medicine-Infectious Diseases; Maxwell Akanbi, '11 MSCI, Oche Agbaji and Edith Okeke from Jos; and Lewis Roberts, PhD, from the Mayo Clinic.
This work is supported by NCI CGH grant UH2 CA189965.