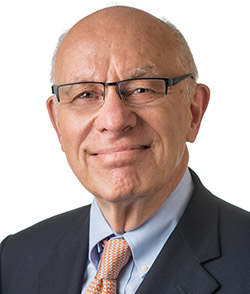 Trial and error reveals that conventional antipsychotic drugs don't work on about 30 percent of people with schizophrenia. In a recent study, Northwestern Medicine scientists found a genetic biomarker to pinpoint some of these patients, making it possible to give them an effective alternative therapy sooner.
"Many treatment-resistant patients are not identified as such and are treated with mixtures of ineffective antipsychotic and other drugs, accruing little benefit and serious side effects," said Herbert Meltzer, MD, professor in Psychiatry and Behavioral Sciences, Pharmacology and Physiology.
Working with Jiang Li, PhD, research assistant professor in Psychiatry and Behavioral Sciences, Dr. Meltzer conducted a genome-wide association study on a sample of Caucasian schizophrenia patients – some treatment resistant, some not. In the former group, the scientists discovered a mutation in the dopa decarboxylase gene, which is involved in the production of dopamine and serotonin. Certain variations of the gene have been associated with psychosis in the past.
The findings were published in Schizophrenia Research.
Patients with schizophrenia suffer from delusions and hallucinations that make it difficult to function socially and at work. By definition, treatment-resistant schizophrenia patients continue to have psychotic symptoms after undergoing at least two trials of conventional antipsychotic medications.
Many of these treatment-resistant patients do in fact respond to a drug called clozapine. However, it's usually not considered in early treatment stages due to potentially severe side effects and required weekly blood monitoring.
"This biomarker can be used to easily identify patients who should be treated with clozapine, avoiding the use of drugs that are not able to help them. This can be life-saving," said Dr. Meltzer, who has spent decades developing atypical antipsychotic drugs to help these patients. He was principal investigator of the landmark clinical trial that led the FDA to approve clozapine in 1989.
Not every patient who could benefit from the drug has the specific dopa decarboxylase genetic mutation: In further research, Meltzer will test more patients, particularly from other ethnic groups, to find additional biomarkers and therapy options for those who don't respond to conventional treatments.
"In a broader sense, this work defines treatment-resistant schizophrenia as a distinct subtype of the illness," said Dr. Meltzer.
This work was supported by the Weissman Foundation and Mike Burke of SureGene, LLC.