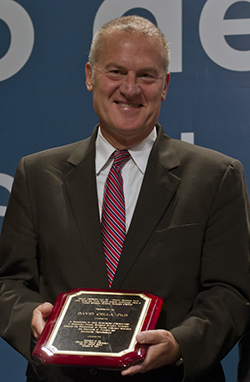 David Cella, PhD, chair of Medical Social Sciences, has received a prestigious international award for his contributions as a pioneer in the field of patient-reported outcome measures.
He accepted the John Ware and Alvin Tarlov Career Achievement Prize on October 6 at the International Society of Quality of Health Care conference in Rio de Janeiro. The award, given by the Health Assessment Lab/Medical Outcomes Trust, honors Cella as a leader in the development, promotion and education of patient-reported outcome measures.
Throughout his 30-year career, Cella has focused his scientific work on the vision that understanding the patient's perspective optimizes health and health care. By gathering and assessing information about patients' symptoms from the patients themselves, clinicians and researchers can improve quality of life for people affected by chronic illness.
"I am deeply moved to receive this award, especially because it comes from peers I admire and respect. Together, we share the goal of putting the patient's voice squarely into the middle of what we do in health care," said Cella, who is director of the Center for Patient-Centered Outcomes at Northwestern University Feinberg School of Medicine.
Cella joined Feinberg in 1997, and became the inaugural chair of the Department of Medical Social Sciences in 2009. Among his many ongoing projects and achievements, he is principal investigator of the NIH Common Fund initiative Patient Reported Outcomes Medical Information System (PROMIS). Through PROMIS, Cella has overseen the establishment of a universal metric to assess patients' physical, mental and social health across conditions.
In September, Cella received a $10.2 million NIH grant to spearhead the National Person-Centered Assessment Resource (PCAR). The grant supports a multi-site research resource platform that will make standardized measurements of patient-centered health outcomes broadly accessible. He also oversees the new Agency for Healthcare Research and Quality-funded Northwestern University-Patient-Centered Intervention and Engagement Training (NU-PATIENT) K-12 Training Program.
Cella is a professor in multiple departments and centers at Feinberg and is also the associate director of prevention and control research at the Robert H. Lurie Comprehensive Cancer Center of Northwestern University. He earned a bachelor's degree in psychology from Northwestern and a doctorate in clinical psychology from Loyola University of Chicago. He completed fellowships in psychology at the Payne Whitney Psychiatric Clinic and Memorial Sloan-Kettering Cancer Center and then spent 10 years building psychosocial services and research within Rush University's cancer program before moving to Feinberg.