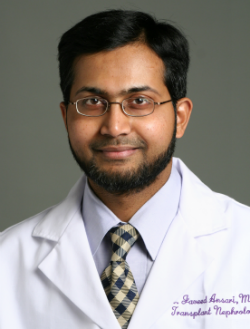 In a healthy person, the immune system destroys harmful foreign substances that enter the body, preventing infections, tumors and other diseases from developing. But this process often works against organ transplant patients.
A recent study by Northwestern Medicine scientists reveals a new way to limit the immune response to prevent chronic organ transplant rejection and encourage long-term transplant survival in animal models.
"We were able to modify the immune response so that it tolerates the organ and rejection is not an issue," said M. Javeed Ansari, MBBS, assistant professor in Medicine-Nephrology and Surgery-Organ Transplantation, and senior author of the paper published in Proceedings of the National Academy of Sciences.
Rejection is rare in the first year following an organ transplant, thanks to immunosuppressive medication. For instance, more than 95 percent of kidney transplants function during that period. But only 50 to 60 percent of them continue to function in five years, explained Dr. Ansari.
This chronic rejection occurs over time as the immune system works to damage the foreign organ, despite physicians' attempts to match donors and recipients.
"There is a diversity of opinion about what leads to chronic rejection. But we know the factors that lead to it relate to the responses that the immune system generates against the transplanted organ," said Dr. Ansari, who is a member of the Robert H. Lurie Comprehensive Cancer Center of Northwestern University.
In the study, the scientists focused on T-cells, the white blood cells that mediate immune responses. They used genetically modified mice with impaired T-cells so the T-cells did not go to their target organ. This way, the T-cells could not reach the foreign tissue and destroy it, causing a state of dysfunction called T-cell exhaustion.
"We've shown that if you prevent the T-cells from going to the target organ, you can induce specific T-cell exhaustion and protect the transplant from being rejected," said Dr. Ansari.
The scientists used a mouse model of chronic heart transplant rejection; however, their finding can be applied to other organs, such as the pancreas, liver, lungs, and kidneys.
One goal for future research is to develop novel reagents, or chemical compounds, that will stop the T-cells from trafficking to the target organ. Ultimately, Dr. Ansari would like to selectively target specific T-cells – the ones that react to the organ – while leaving other T-cells intact – the ones that fight infections and other abnormal tissue such as cancer.
In healthy people, T-cell exhaustion is not something physicians want to promote. In fact, it's a major problem for those struggling to fight off disease. Interestingly, this study, which found a way to elicit T-cell exhaustion, can be applied on the flip-side.
"This work could be translated in the opposite way to impact areas of infectious diseases and cancer immunology," said Dr. Ansari. "Instead of preventing the cells from reaching a transplanted organ, you can facilitate them toward sites of infection or targets like tumors and clear them more quickly."
This research was supported by National Institutes of Health (NIH) grant K08 AI080836, an NIH T32 grant and an American Society of Transplantation Basic Science Fellowship Award.