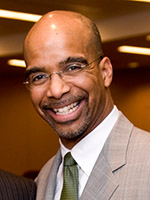 The American Heart Association (AHA) presented two national awards to Northwestern Medicine physician-scientists: Clyde Yancy, MD, chief of Medicine-Cardiology and a cardiologist at Northwestern Memorial, has been honored with the AHA's 2014 Gold Heart Award, and Neil J. Stone, '68 MD, '74 '75 GME, Robert Bonow MD Professor in Cardiology and a cardiologist at Northwestern Memorial, received the association's 2014 Physician of the Year Award.
"Personal recognition is not why one donates time, attention and resources to the AHA—it is rather because the mission means something to us that is intangible and compelling. I am humbled that my peer members of the AHA recognized the work that I have done," said Dr. Yancy, who served as president of the AHA from 2009-2010, won the AHA's Physician of the Year Award in 2003 and has volunteered with the association for 25 years.
The Gold Heart Award, the AHA's highest honor, recognizes volunteers who have given continued distinguished service.
"The AHA has been my parallel career. I've been fortunate – so many of the skills I've acquired from volunteerism and leadership in the AHA have facilitated my everyday roles as a leader, investigator, teacher and clinician in Academic Cardiology," said Dr. Yancy, Magerstadt Professor and associate director of the Bluhm Cardiovascular Institute.
Throughout all of Dr. Yancy's involvement with the AHA – from holding numerous appointments to serving as a spokesman to authoring clinical guidelines – he says he has found it most meaningful to champion the association's cause: to define cardiovascular disease (CVD) disparities and to deploy new models to achieve health equity.
"If my efforts through the AHA have led to a better understanding, greater awareness and better access to care for all persons at risk for, or those with, heart disease, then we have indeed accomplished a greater good," he said.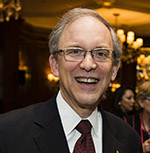 Dr. Stone received the Physician of the Year Award in recognition of his outstanding contributions to the field of cardiovascular health.
"I was surprised and humbled to learn about this award, it means a great deal to me," said Dr. Stone, medical director of the Center for Vascular Disease at the Bluhm Cardiovascular Institute. "I have been an AHA volunteer for more than four decades, I am very proud to have been able to work with such a world class organization."
The recipient of the Physician of the Year Award must be a volunteer at the division, affiliate or national AHA level and must be a practicing physician with direct patient care responsibilities.
Long active in AHA, Dr. Stone is a past chair of the American Heart Association Nutrition Committee from 1993-1996. As part of the AHA Expert Panel on Population and Prevention Science, he participated in the writing groups that published the 2002 AHA guidelines for primary prevention of cardiovascular disease and stroke, the 2004 guidelines for cardiovascular disease prevention in women and the AHA/ADA statement on prevention of CVD in diabetes.
"Drs. Stone and Yancy have been pillars of our cardiology program at Northwestern for years," said Robert O. Bonow, MD, MS, vice chairman of the Department of Medicine, director of the Center for Cardiovascular Innovation and a past AHA president. "We are proud that these AHA national awards recognize them for their expertise, vision and leadership. These are qualities that their patients and colleagues see in them every day."
AHA leaders present the awards on June 24 and 25 in Dallas, and a celebratory reception at Northwestern Medicine's Prentice Women's Hospital follows on June 26.
"Here at Northwestern we hold these two colleagues and friends in the highest esteem," said Patrick M. McCarthy, MD, chief of cardiac surgery and director of the Bluhm Cardiovascular Institute. "It is gratifying to see the American Heart Association recognize their important contributions."