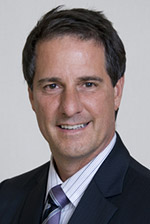 Dr. Thomas currently serves as the Charles and Lorraine Moore Chair in Cardiovascular Imaging at the Cleveland Clinic and professor of Medicine and Biomedical Engineering at Case Western Reserve University. He also serves as a lead scientist for ultrasound with NASA.
"As we continue to grow our cardiovascular medicine program, it is important to accentuate and nurture our inherent strengths," said Clyde Yancy, MD, chief of Cardiology and associate director of the Bluhm Cardiovascular Institute. "Our expertise addressing heart valve diseases is already leading class, and now, with the successful recruitment of Jim, we have been catapulted to the very cusp of leadership at an international level."
Dr. Thomas' clinical interests include valvular heart disease and diastolic dysfunction, with research interests in cardiac mechanics, application of new echo technology and space physiology.
He received his bachelor's and medical degrees from Harvard University, and completed his residency in Medicine at Massachusetts General Hospital. He attended the University of Vermont for a clinical fellowship in Cardiology before completing a research fellowship in Medicine back at Massachusetts General Hospital.
After his fellowships, Dr. Thomas became an instructor and later assistant professor of Medicine at Harvard Medical School. He joined the Cleveland Clinic in 1992 as director of Cardiovascular Imaging and later as professor of Medicine at Cleveland Clinic Health Sciences Center of The Ohio State University School of Medicine.
Dr. Thomas is a member of the American College of Physicians, American College of Cardiology and the American Society of Echocardiography (ASE), and a fellow of the Council on Clinical Cardiology, American Heart Association and the European Society of Cardiology
He has more than 500 peer reviewed publications and is past-president of the American Society of Echocardiography. He is a recipient of the Richard Popp Excellence in Teaching Award from the American Society of Echocardiography and was honored as the Edler Lecturer at last year's ASE Scientific Sessions.
"Jim will help us fulfill our quest to offer the best care, perform the best science and create the best educational tools in heart valve disease" Dr. Yancy said. "With him on board, we will seek and attain a position of world class leadership in this area."