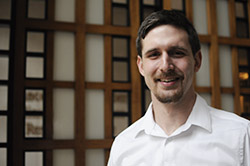 Peter Dorschner, a rising third-year medical student, received an Alpha Omega Alpha (AOA) 2014 Carolyn L. Kuckein Student Research Fellowship. The award will fund his project "A Retrospective Study of Early Post-Transplant Nosocomial Infections."
"It is a privilege to receive this award and I am looking forward to doing my research project over the summer and through my third-year," Dorschner said.
Dorschner will study hospital-acquired infections in transplant recipients. He will work under the mentorship of Michael Ison, MD, associate professor in Medicine-Infectious Diseases and Surgery-Organ Transplantation.
"Hospital-acquired infections are well characterized in the general surgical population, but there is a need for more data about these types of infections in transplant patients," Dorschner said. "I am looking forward to contributing to this important body of research by identifying the unique risk factors for this vulnerable population and determining strategies for infection prevention."
"Peter has accomplished an incredible amount in the past two years," said Dr. Ison. "He's presented his research at several conferences, has published a review paper on early nosocomial infections in transplant recipients and has initiated a research project that has garnered significant interest locally and nationally. I am confident that the AOA grant will be the first of many for him."
AOA, a medical honor society, awards 50 fellowships nationwide. The fellowships provide support for first, second or third-year medical students from schools with active AOA chapters to pursue a research project in clinical investigation, laboratory research, epidemiology, social science/health services research, leadership or professionalism. The program honors Carolyn L. Kuckein, long-time administrator of AOA and an honorary member of the society.