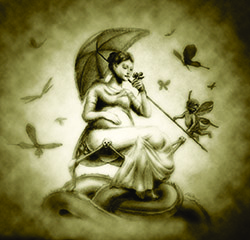 As cover editor and illustrator of Anesthesia and Analgesia, Naveen Nathan, MD'03, GME'07, assistant professor in Anesthesiology, has found a way to combine his love for medicine with his love for art.
For the past year, Nathan has applied his artistic skills to producing covers for the journal, creating the conceptual frameworks and using his talent to render illustrations. His artwork depicts contemporary issues that anesthesiologists encounter, such as patient safety and crisis management in the operating room.
Additionally, he has served as a graphics editor for a textbook on obstetrics and anesthesia and was a finalist in the Netter Images Art Illustration Competition, a contest for artwork inspired by surgeon and medical illustrator Frank Netter.
"As I've stayed on staff here, there have been a number of opportunities that called for someone with artistic skill and it has evolved into so much more, such as serving as an editor for a major journal," he said. "That is something special about the culture and people at Northwestern; they recognize and support talent and see where they play a role in medicine."
Naveen also credits art with providing a deeper way to communicate with patients.
"There are subjective and emotive components to art that translate to medicine through the patient experience. I can use those skills in addressing emotional or tough subjects," he said.
Nathan's interest in anesthesiology started as a second-year medical student listening to Eugene Silinsky, PhD, interim chair of Biochemistry, lecture on anesthesia drugs.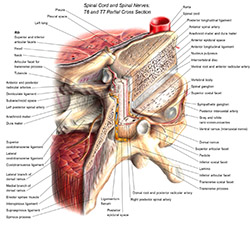 "It was such a departure from everything we had learned up to that point, which all had therapeutic goals. The drugs he described, drugs that rendered patients unconscious or completely paralyzed, were enthralling," said Nathan.
Again, he was fascinated by the specialty as a third- and fourth-year student. During his clerkships, he spent time in the operating room observing anesthesiologists.
"Anesthesia is interesting in that a lot of the practice is administering life threatening drugs to get someone through surgery. It is such a high stakes game and you're only allowed to do so much as a medical student," he said. "But I had enough clinical experience to know that I liked it and I identified with the personality of the instructors, which solidified my decision to stay at Northwestern and pursue this specialty for residency."
After completing his training, Nathan accepted a faculty position at Feinberg, and has taught residents for the past six years. He has also mentored medical students as they complete their rotations. Nathan encourages medical students to be active learners by promoting an environment where they are unafraid to ask questions.
"I see a lot of myself in them," he said. "I try to connect what we do in the operating room with what the students have learned in the first two years of medical school to show them how it applies to patient care."
As Nathan continues to teach and practice anesthesiology, he knows that art will continue to provide balance in his life.
"Being a physician in the year 2014 is an extraordinarily challenging job because you have to let go of the romanticized idea of what being a physician is," he said. "There are so many other things going on – administrative expectations, politics, economics, legal issues – and it is overwhelming. Art is one way to keep the balance and I am grateful that I can integrate it into my practice."