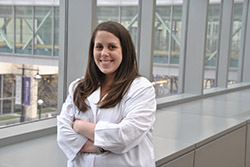 A new study presented by Jessica Buren, MD, a regional anesthesiology fellow at Northwestern Medicine, has revealed that local, pain-blocking anesthetic can be given at a much lower dose than previously thought for patients undergoing knee replacement surgery.
"This is an important discovery because we are constantly trying to minimize risks to the patient while maintaining block success rates," Buren said. "If we are able to use smaller amounts of medications, the patients will have a lower risk of developing local anesthetic toxicity."
The findings were recently published in Regional Anesthesia & Pain Medicine. Antoun Nader, MD, professor of Anesthesiology and Orthopaedic Surgery, was first author.
By achieving the same affect with one-third the anesthetic, Buren and colleagues concluded that there was effectively no difference between giving 30 and 10 mL doses of local anesthetic to achieve a sciatic nerve block. The scientists also determined that 2.5 and 5 mL doses were too small.
Physicians used ultrasound guidance and nerve stimulator assistance in conducting the study that included 139 adults undergoing total knee arthroplasty, or replacement. Patients were randomized to receive varying volumes of local anesthetic.
"We found that patients who received as little as 10 mL of local anesthetic had a comparable block success rate as those who received larger volumes," said Buren, who presented the findings at the annual meeting of the American Society of Anesthesiologists. "Further work will need to be done to see if we can make adjustments to the concentration of medication that would allow us to further decrease the dose."
Decreasing dosage is advantageous because although local anesthetic is considered safe, the drugs can become toxic or produce unintended consequences in some patients.
The study was supported by grants from the Department of Anesthesiology at Northwestern University Feinberg School of Medicine.