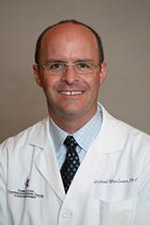 After a national search, Michael MacLean, MS, PA-C, has been named director of the Physician Assistant (PA) Program at Northwestern University Feinberg School of Medicine. He has served as the interim director since July 2013, replacing James Van Rhee, MS, PA-C, the program's founding director.
"I have been in the Northwestern system for nearly ten years and I am genuinely honored to be named as the director of the PA program," said MacLean. "This is a very exciting time for the program. Our exceptional faculty, staff and students are poised to propel us to a position of greater academic prominence and national visibility. We are all privileged to be a part of it and look forward to making enduring contributions for years to come."
MacLean has been a core member of the PA program faculty since its inception in 2010, serving as the course director for basic sciences and teaching in the problem-based learning and clinical medicine curricula.
"After an intensive search, it was clear that we had an outstanding internal candidate in Mike MacLean," said Diane B. Wayne, MD, vice dean of Education. "Mike is an established and prominent educator and a talented clinician. From the faculty input we received, it is also clear that he has the strong endorsement and support of his Feinberg colleagues to take on this important educational role. I am confident that under his leadership this terrific program will continue to grow and develop in conjunction with the ongoing expansion of our health system."
MacLean began his career in infectious diseases at Cook County Hospital and served as an adjunct instructor at the Cook County Hospital/Malcolm X College PA program. In 2000, he served as director of the adult medicine curriculum at the University of Colorado School of Medicine. He later joined the National Jewish Medical and Research Center in Denver, working in the occupational lung diseases clinic. In 2004, MacLean returned to Chicago and joined the Northwestern Medicine system. Through the Department of Dermatology, he recently completed the Project Skin Watch study, a NIH/NCI funded program investigating a novel intervention for the secondary prevention of malignant melanoma.
An active member of state and national PA professional academies, Maclean was recently appointed to a second term as a member of the test writing committee for the Physician Assistant Clinical Knowledge Rating and Assessment Tool produced by the Physician Assistant Education Association.
MacLean is a graduate of Illinois State University and received his PA training from John H. Stroger Hospital of Cook County/Malcolm X College, as well as an MS in preventive and rehabilitative exercise physiology from Indiana University.