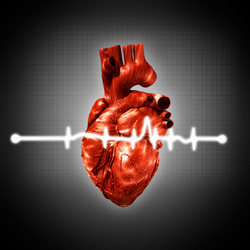 Northwestern Medicine is partnering with the Chicago Department of Public Health to expand an innovative program, Keep Your Heart Healthy, to screen Chicago residents for cardiovascular disease.
The GE Foundation, which is supporting the program with a $2.2 million grant, announced the expansion at a recent event. Mayor Rahm Emanuel and Bechara Choucair, MD​, commissioner of the Department of Public Health and adjunct associate professor in Family and Community Medicine, spoke at the event.
The prevalence of cardiovascular disease is a major public health problem in Chicago. It is the leading cause of death here with 30 percent of the adult population having high blood pressure. Each year, one in four deaths in Chicago are related to the disease.
Keep Your Heart Healthy will build on the success of a GE Foundation-funded pilot program that implemented a similar community outreach intervention model in 2012. This model brings together health professional students, community health workers and local health centers to provide Chicagoans with the education and resources they need to reduce their risk of cardiovascular disease. The partnership will provide residents with free heart screenings and referrals to low-cost primary healthcare services.
Northwestern University Feinberg School of Medicine students will collaborate with Family Focus in North Lawndale and the Diabetes Empowerment Center in Humboldt Park to conduct weekly heart screenings. Students also will work with community health workers at large-scale screening events in South Chicago and Douglas. The program will expand by two neighborhoods each year of the grant so that by 2016 it will serve eight communities in Chicago.
The program will also identify Chicago residents most at risk for developing heart disease and work with them to make life changes to help reduce their risk for heart disease or stroke.
"We are proud to partner with the Chicago Department of Public Health in the development and execution of this important initiative," said Donald Lloyd-Jones, MD, senior associate dean and chair of Preventive Medicine at Feinberg and a cardiologist at Northwestern Memorial Hospital. "Through the skilled hands and passion of our medical students, we will work with the community to help improve cardiovascular health among Chicagoans."